Princess Diana: Gangsta?
In case you missed it, here are the top style stories of the week.
---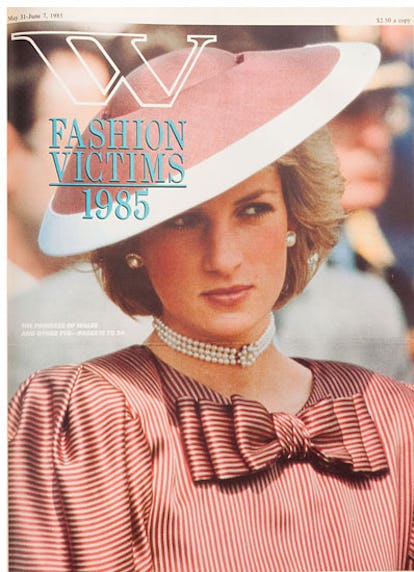 Banks, Tyra Is suing 10 companies for making wigs inspired by her hairstyles. All 57 of them.
Campbell, Naomi Revealed that before hitting the Versace runway she did a 10-day juice cleanse; shouldn't change up her routine since it's clearly working.
Cavalli, Robert Hired former Diane von Furstenberg designer Yvan Mispelaere to be his design director; may be looking to go in a more ladylike direction.
Collins, Lily Will star alongside her marvelous brows in new Lancome ads.
Cyrus, Miley Starts feud with Sinéad O'Connor in hopes of having a photograph of herself ripped up on SNL.
Delevingne, Cara Continues her acting career; dons dreadlock wig to show dedication.
Dreyfus, Jerome Isabel Marant's husband will not be designing bags for her H&M collection. Sorry kids.
Giorgio Armani Debuts nail polish that claims it requires only one stroke per nail. We'll believe it when we see it.
Jacobs, Marc Officially leaves Louis Vuitton; goes out with a Stephen Sprouse-covered bang.
Jolie, Angelina Wears new ring; delights tabloids.
Kao, Jen The New York-based designer closes her label.
Mellon, Tamara Declares that Jimmy Choo never designed a single shoe. Then why isn't the label named Tamara Mellon?
Million Dollar Shoppers Will be the subject of a new TV show on Bravo. Can't wait.
Paltrow, Gwyneth Makes Instagram just a little bit GOOPier. Yes.
Prince George Will be baptized in a gown that was originally made for Queen Victoria; demonstrates his style icon destiny.
Rihanna Calls Princess Diana "gangsta."
Proenza Schouler Has announced a makeup collaboration with MAC; get your wallets ready.
Slimane, Hedi Really did not appreciate the fact that the Parisian store Colette was selling T-shirts emblazoned with the words "Ain't Laurent Without Yves;" cuts all ties.
Westwood, Vivienne Makes unlikely bedfellows with the Cambridge Satchel company, but hey, they are both British.