Princess Eugenie Is the Latest Celebrity To Announce She's Expecting a Baby in Quarantine
Another year, another royal baby.
---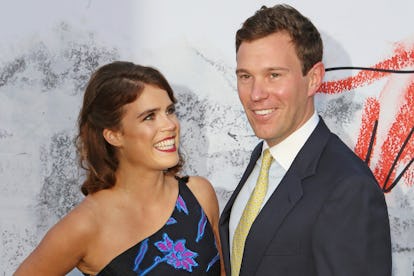 David M. Benett/Getty Images
Like many (but not all) celebrity couples who have been quarantined together, Princess Eugenie and Jack Brooksbank's relationship appears to have only developed positively.
Nearly two years after her wedding, Princess Eugenie has announced that she and her husband are expecting a baby next year. The announcement of a new baby right around now is to be expected, considering the rates at which her royal cousins announced their baby news after their royal weddings, and considering the fact that even royals must have been bored in the house for at least part of the pandemic.
According to the Royal Family's official Instagram account, the grandparents are in good spirits about the family's new addition. "The Duke of York and Sarah, Duchess of York, Mr and Mrs George Brooksbank, The Queen and The Duke of Edinburgh are delighted with the news," read the Instagram caption.
Princess Eugenie updated her personal Instagram account with the news, too, writing "Jack and I are so excited for early 2021….👶🏻" in the caption of a photo of two baby slippers.
Sarah Ferguson, Duchess of York, also shared her excitement on social media. "I am so excited by the news that Eugenie and Jack are expecting their first child. Thrilled for them both and in my 60th year cannot wait to be a grandmother. Welcoming a new baby into the York family is going to be a moment of profound joy," she wrote. There's no word yet on whether or not she'll want the child to call her "Grandma Fergie."
Related: Could Princesses Beatrice and Eugenie Emerge as the Winners of Megxit?