Will and Grace
Royalty is a rather unfathomable concept to most Americans. The closest we generally get to such feelings of respect and for some, borderline fervor, is when the likes of Meryl Streep or Clint Eastwood enters...
---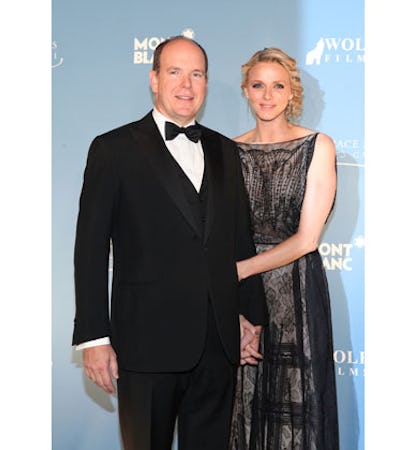 Royalty is a rather unfathomable concept to most Americans. The closest we generally get to such feelings of respect and for some, borderline fervor, is when the likes of Meryl Streep or Clint Eastwood enters a room. Our obsession with the British royal wedding earlier this year seemed partially fueled by an envious desire for our own such festivities—all history of our countries' longtime separation, temporarily forgotten.
Tuesday evening, New Yorkers got a taste of some real life royalty, the product of another wedding this past summer, when Their Serene Highnesses The Prince and Princess of Monaco preceded over The Princess Grace Awards Gala at Cipriani 42nd St, which honors achievements in the arts. It's not often you see charity circuit regulars parting the seas for someone not hailing from the hallowed hills of Hollywood. But when Prince Albert II and his wife Princess Charlene (who were paying their first visit to the US since their summer nuptials) entered, there was no need for security to clear a path for them from the red carpet to their private, hidden holding room.
During cocktails, while mere mortals like Rufus Wainwright, Lynn Wyatt and Olivia Munn mingled in the venue's so-called "chapel," a VIP area was erected on a mezzanine where Their Serene Highnesses (it's just so much fun to write those words) were trotted out for photo ops with the dancers, theater performers and filmmakers being honored that night—21 in total.
"There's somebody who says he's from Monaco and needs to come up," said one PR to another as an impatient guest stood on the wrong side of the velvet rope.
"We can see all the famous people from here," said a delighted Fe Fendi as she craned her neck to admire Natalie Cole posing for cameras.
"Denise Rich—she keeps looking younger and younger," remarked another woman knowingly.
Just before the bell sounded for dinner, Julie Andrews, the evening's star honoree, emerged from a makeshift dressing room for photos with all 21 honorees as others waved their iPhones in the air.
Then it was on to dinner. First, we all stood as the national anthem of Monaco was played and Their Serene Highnesses (there I go again!) walked to their table. Just near Ice-T and Coco, I might add. Not the most obvious dining companions for such guests, but oh well. Then an emcee thanked, among others, 1-800flowers.com for providing the centerpieces and American Airlines for being the official airline of the Princess Grace Foundation. Apparently we have more connections to royalty than originally anticipated.
Certainly one of my tablemates thought she did. The second thing she told me after I sat down (the first was "I'm from Chicago") was "This is going to age me, but my sorority sister from college dated Prince Albert for a while. She's now married to an Irish count. Not much money, but lots of land." She also insisted later on in the evening that her brother had trained Charlene nee Wittstock for her swimming competitions in the Olympics. She also, as the night went on, seemed to be increasingly under the influence of more than just the single bellini and glass of wine she sipped.
But I digress. Rufus and Martha Wainwright got the night off to a moving start by serenading Andrews with "I Could Have Danced All Night" (sung by just Rufus) and "Something Good" (both siblings).
"We're a little folkier tonight," said Martha.
"I tried to dress like a prince. I wore something from Victor/Victoria," said Rufus.
"We should have spoken on the phone," retorted Martha, adding "If I screw up, jump in."
"Oh, I will," replied Rufus.
Carole Burnett had sent a note to Andrews, in which she lauded her friend.
"Dearest chum, Are there any more awards for you to get? I hope you have enough mantle pieces," it read.
Director Jon M. Chu received the Princess Grace Statue Award. And Montblanc, which had created the special collection, Montblanc Collection Princess Grace de Monaco, unveiled the line for the first time in the US via video footage for those who couldn't leave their seats to peruse it in person near the space's entrance. And then dinner was served. And I learned that my tablemate had at one point spent time in a Guatemalan jail. And that Princess Charlene is human and just like us lay people, chats about dresses in the loo between courses.
Dessert arrived, as did more tributes to Andrews, including a telegram from James Garner ("Dearest Julie, it is extremely fitting that you're being honored in the name of a princess because you are regal in everything you do and say") and a speech from Rob Marshall ("What's she really like? We love it because we don't have to lie. She's so much more than you imagine her to be"). The theater, dance and film awards were handed out and then Anne Hathaway took to the stage. The irony of her casting opposite Andrews in The Princess Diaries precipitating this scenario was not lost on the actress, who gave what would have been a hyperbolic ode had she been honoring anyone else.
"The more you drink, the funnier I am—the choice is yours," she told the audience, before continuing, "Julie is about as intimidating as a Teletubby. I feel Julie is beloved because she has grace, she is positively brimming with it. She is legendary for signing autographs for hours. Julie, in moments of struggle, I often ask myself WWJD? What would Julie do?"
A video medley of Andrews' years of work was overwhelming in its range, though Prince Albert II couldn't help slipping in a Mary Poppins reference in his toast to the actress.
"To a woman with whom I would have taken my medicine, better with a spoonful of sugar," he said to much laughter as he handed Andrews her statue for the Prince Rainier III Award.
Dame Andrews received two standing ovations.
"This is a royal event of sorts and it has caused me to reflect on how privileged I've been to play all the royalty I have, including the ultimate queen, Victor, "she remarked, recalling how she once met Grace Kelly briefly at a costume benefit and was awestruck by her. "Goodnight and get home safely," she concluded.
Photos: Getty Images