Extremely Cultivated
Princess Mafalda von Hessen sows the seeds of ready-to-wear.
---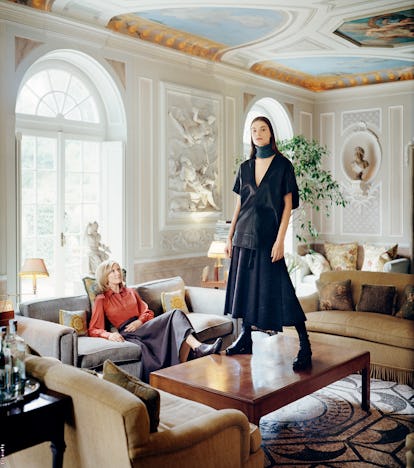 Among her many attributes, the German princess Mafalda von Hessen, the great-granddaughter of Vittorio ­Emanuele III, a former king of Italy, has a very green thumb. It's something she inherited from her grandfather, Landgraf Philipp von Hessen, who designed the impressive fountains and greenery at Villa Polissena, the estate on the outskirts of Rome where the princess resides. Even when she is not tending to the gardens, she is nevertheless influenced by them. About her new eponymous ready-to-wear line, she says, "You plant the seeds and then watch a little tree grow."
Fashion, like flora, has long fascinated her. After earning a master's in design at New York University, von Hessen, 50, worked for Tirelli, the Roman costume house, and Patrick Kinmonth, the opera director and designer. She has also modeled, served as a style ambassador for Giorgio Armani, and—less glamorously—teamed up with a German home-shopping network to hawk clothes. "It was a short marriage," she notes of the latter.
Her collection, which is available at Mafaldavonhessen.com, was motivated by a need for clothes that a "country person" like herself can also wear in the city. For fall, there are slim suede trousers, velvet blouses, and napa-leather tunic tops—all in a mix of rich, bucolic colors like chocolate brown, burnt orange, gold, and, of course, forest green. "I can't help but be inspired by my environment," she says.
Photos: Extremely Cultivated
Mafalda von Hessen at home (seated), with a model wearing a look from her line.
Photograph by Benoit Peverelli; Styled by Silvia Gabrielli.
Mafalda von Hessen Fall 2015 collection. Courtesy of designer.
Mafalda von Hessen Fall 2015 collection. Courtesy of designer.
Mafalda von Hessen Fall 2015 collection. Courtesy of designer.
Hair by Astor Hoxha at Close Up Milano; Makeup by Arianna Campa at Close up Milano. Photography assistant: Rodolphe Bricard. Fashion assistant: Patricia Villirillo.