It Girl: Princess Maria-Olympia
Dressed in the latest tweeds, teen Princess Maria-Olympia of Greece is (almost) too cool for school.
---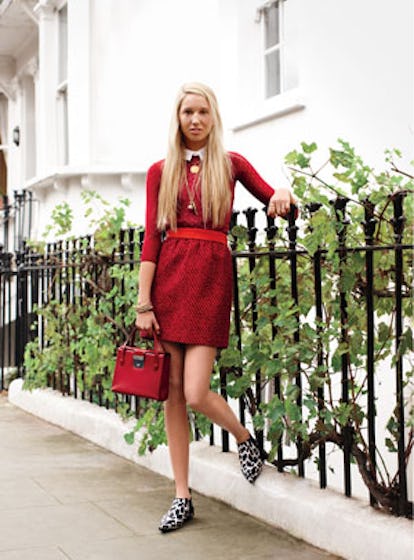 Just because she has a royal title doesn't mean Princess Maria-Olympia of Greece doesn't deal with the same fashion woes as your average 16-year-old—like hemlines. "They can only be a couple of centimeters above the knee," says the London-based student of her school's pesky skirt regulations. "I don't really listen to that."
Like most teenage girls, she loves to raid her mom's closet—helping herself to Crown Princess Marie-Chantal's Chloé shirts, Chanel handbags, and Isabel Marant sneakers and mixing them with her own American Apparel skirts and Ralph Lauren tops. (This Marc Jacobs sweater, Balenciaga skirt, and Victoria Beckham shirt ensemble is a spin on Maria-Olympia's everyday look.) But unlike many of her peers, the princess has yet to fully enter the social whirl, though she's been to galas for the British children's nonprofit ARK and attended the opening for the Valentino exhibition at Somerset House, where she wore her mom's vintage Valentino dress. "I don't go to many events," she says. Then adds with a sigh: "not nearly enough." There's plenty of time.
Photographer: Willy Vanderperre
Photographer: Willy Vanderperre
Photographer: Willy Vanderperre
Photographer: Willy Vanderperre
Photographer: Willy Vanderperre
Photographer: Willy Vanderperre
Photographer: Willy Vanderperre
Photographer: Willy Vanderperre
Shamballa Jewels gold necklace.

Photographer: Willy Vanderperre
Hair by Teiji Utsumi For Moroccanoil at Terrie Tanaka; makeup by Thomas De Kluyver; Digital Technician: Andre Skjegstad; Photography Assistant: Daniel Ciufo; Poesy: Getty Images; Clueless: Everett Collection; Books: Courtesy Of Scholastic; Advice: Courtesy Of Princess Maria-Olympia