Proenza Schouler Made Its Spring Collection Into a Coffee Table Book
Designers Jack McCollough and Lazaro Hernandez collaborated with the photographer Daniel Shea on a "love letter to New York City."
---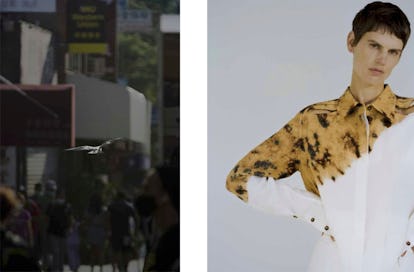 Photographed by Daniel Shea.
While covering New York Fashion Week's first try at remote presentations for spring 2021, W magazine concluded that "a look book does not a finale make." But that was before we'd caught a glimpse at Proenza Schouler's take.
In light of the coronavirus pandemic, designers Jack McCollough and Lazaro Hernandez, like the other fashion folk who made collections this season, had to get creative with the format in which they presented their line. And instead of an IRL runway show, McCollough and Hernandez collaborated with photographer Daniel Shea to turn what would usually be a look book into a full-fledged love letter to New York. The photographs—which feature pictures of the fashion mixed with moments recognizable to any New York City resident—are formatted like a coffee table book: bound in blue with large-format imagery. Soft, baby-pink suiting; t-shirts with keyhole backs; Grecian, draped dresses, and puffy slippers appear next to snapshots of hot dog stands and skyscrapers.
In addition to the look book-as-tome, the designers assembled a group of fashion's top editors for a digital "backstage" so to speak, in which they discussed via video their approach to spring 2021.
"We just didn't want this thing that we did to be ephemeral and disappeared into the ether as soon as it was over," Hernandez said during the chat.
"There was also something really freeing about knowing that we weren't going to have a show," McCollough added. "In seasons past, we always toyed with the idea of 'Let's skip the season, let's get off this hamster wheel for a second and do something new, explore a different medium."
Related: New York Fashion Week Spring 2021 Recap: A Return to Fashion, For Now