Progressive Organizations That Need Your Support, Now More Than Ever, in Trump's America
Learn more, get involved, and open your wallets because, as Hillary Clinton said in her concession speech, "there is more work to do."
---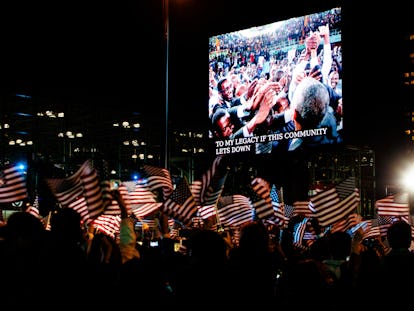 Photo by Zak Krevitt.
The hours following the election of Donald Trump as president of the United States has left many feeling speechless, helpless, and utterly devastated. But as Hillary Clinton and Barack Obama said in their respective post-election remarks, liberals, Democrats and independents must keep fighting, especially after January 20, when the government will controlled by a party that has made pulling back the progress of the last eight years, including affordable healthcare for all, a priority of their White House, their Congress, and, just as likely, their judiciary.
Clinton in particular, in her concession speech, urged activists and community organizers to fight for "what's right:" "I believe we are stronger together and we will go forward together. And you should never, ever regret fighting for that. You know, scripture tells us, 'Let us not grow weary of doing good, for in good season we shall reap.' My friends, let us have faith in each other, let us not grow weary and lose heart, for there are more seasons to come and there is more work to do."
An easy way to take action right now is to learn more, get involved, and donate, your money and your time, to progressive organizations like the ACLU and Planned Parenthood, among many others. (Note: some of these organizations' sites have crashed because of high interest following the election; be patient.)
Below, a list of organizations that need your support now more than ever.
The American Civil Liberties Union Mission: To defend and preserve the individual rights and liberties guaranteed to every person in this country by the constitution and laws of the United States. Donate here.
The Audre Lorde Project Mission: A Lesbian, Gay, Bisexual, Two Spirit, Trans and Gender Non-Conforming People of Color community organizing center, focusing on the New York City area. Donate here.
Border Angels Mission: A San Diego based non-profit that advocates for human rights, humane immigration reform, and social justice with a special focus on issues related to issues related to the US-Mexican border. Learn how to show your support here.
Campaign Zero Mission: Police reform in association with Black Lives Matter. Get involved here.
The Center for Reproductive Rights Mission: To promote and defends the reproductive rights of women worldwide. Donate here.
The Coalition for Humane Immigrant Rights of Los Angeles (CHIRLA) Mission: To advance the human and civil rights of immigrants and refugees in Los Angeles. Donate here.
The Council on American-Islamic Relations (CAIR) Mission: A Muslim advocacy group working to promote a positive image of Islam and Muslims in America. Learn more here.
NARAL Pro-Choice America Mission: To engage in political action and advocacy efforts to oppose restrictions on abortion and expand access to abortion. Donate here.
The National Association for the Advancement of Colored People (NAACP) Mission: To ensure the political, educational, social, and economic equality of rights of all persons and to eliminate race-based discrimination. Donate here.
National Organization for Women (NOW) Mission: To take action to bring women into full participation in the mainstream of American society now, exercising all privileges and responsibilities thereof in truly equal partnership with men. Learn more here.
The New York City Alliance Against Sexual Assault Mission: To build the capacity of communities, organizations, and institutions to advance the right to live free from sexual violence and reduce the harm it causes individuals, families, and society. Donate here.
Planned Parenthood Mission: A nonprofit organization that provides reproductive health services both in the United States and globally. Donate here.
Rape, Abuse & Incest National Network (RAINN) Mission: Anti-sexual assault organization working with local rape crisis centers across the U.S. Donate here.
She Should Run Mission: A national network changing culture to inspire more women and girls to run for office. Donate and get involved here.
The Trevor Project Mission: A national 24-hour, toll free confidential suicide hotline for gay and questioning youth. Donate here.
The Young Center for Immigrant Children's Rights Mission: To promote the best interests – safety and well-being – of unaccompanied and separated immigrant children in the United States. Learn more here.
Sadness and Disappointment: Reactions at Hillary Clinton's Election Night Party as Donald Trump Declared Victory
Watch W's most popular videos here: