NYFW Men's: Public School Goes Public
Like Marc Jacobs and Riccardo Tisci before them, Maxwell Osborne and Dao-Yi Chow let the public in to their fall show. Well, just a bit.
---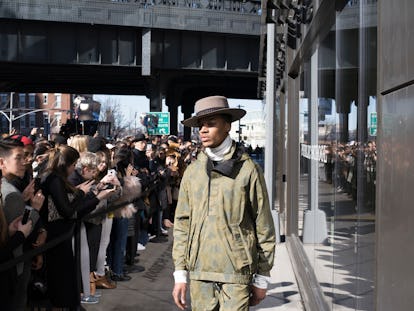 The Public School Fall 2016 menswear show couldn't start until Fabolous, the hip-hop artist best known for his early Aughts hit single with Ashanti "Into You," showed up. His late arrival caused a tremor among the public relations keepers of the front row as they tried frantically to figure out who to boot to accommodate this late-arriving VIP. But with so many celebrities in attendance, including New York Giant Victor Cruz and Swizz Beats, it was impossible to choose. Scooching was the only solution.
The irony of this typical fashion week fuss was that, according to designers Maxwell Osborne and Dao-Yi Chow, the most important people weren't even in the room. Once everyone finally took their seats, curtains surrounding the runway dropped to reveal a crowd of fashion students, fans, and a few lucky tourists standing outside in the cold. The invite-only Milk Studios space suddenly became a fishbowl. Fabulous turned around to face the sea of iPhones, as though he'd been caught on Candid Camera.
Then, the show began—but with models walking outside first. It was Fabolous' turn to wait.
"The theme of this show was outside/in, which prioritizes the outside," Chow explained afterwards. "We wanted to give our fans the chance to have a behind-the-scenes look, even if it was just a split second before everyone else." He continued: "With social media and the Internet, everyone has access to the shows. But to see what really happens backstage and the frenzy is something we've wanted to share for a long time."
In recent seasons, a number of designers, from Marc Jacobs to Givenchy's Riccardo Tisci, have invited the public in, just a bit anyway, to their shows. The trend underlines a growing interest in making fashion more inclusive, even if cynics say it's all about maximum social media exposure. Osborne emphasized that this was no "Instagram pit" à la Tommy Hilfiger, or a ploy to double the number of #INSIDEOUT hashtags.
"We actually weren't thinking about social media. We should have!" the designer said. "To give the public a first look was to make them feel a part of it." Both designers watched the show outside themselves. Also taking in the show among the plebes: New York Times critic Guy Trebay. "It was more fun for us to be with them," Osborne admitted.
Even if it sounds like Osborne and Chow might be drinking the Bernie Sanders Kool-Aid, they said they are in the process of rethinking fashion's priorities. Should brands cater to buyers or the customers themselves? Whose opinion has the most reach: reporters or Internet commenters?
If today's show proved anything, it's that there's room for everyone – Fabolous, fabulous or not.
NYFW Men's: Backstage at Public School Fall 2016
NYFW Men's: Backstage at Public School Fall 2016
NYFW Men's: Backstage at Public School Fall 2016
NYFW Men's: Backstage at Public School Fall 2016
NYFW Men's: Backstage at Public School Fall 2016
NYFW Men's: Backstage at Public School Fall 2016
NYFW Men's: Backstage at Public School Fall 2016
NYFW Men's: Backstage at Public School Fall 2016
NYFW Men's: Backstage at Public School Fall 2016
NYFW Men's: Backstage at Public School Fall 2016
NYFW Men's: Backstage at Public School Fall 2016
NYFW Men's: Backstage at Public School Fall 2016
NYFW Men's: Backstage at Public School Fall 2016
NYFW Men's: Backstage at Public School Fall 2016
NYFW Men's: Backstage at Public School Fall 2016
NYFW Men's: Backstage at Public School Fall 2016
NYFW Men's: Backstage at Public School Fall 2016
NYFW Men's: Backstage at Public School Fall 2016
NYFW Men's: Backstage at Public School Fall 2016
NYFW Men's: Backstage at Public School Fall 2016
NYFW Men's: Backstage at Public School Fall 2016
NYFW Men's: Backstage at Public School Fall 2016
NYFW Men's: Backstage at Public School Fall 2016
NYFW Men's: Backstage at Public School Fall 2016
NYFW Men's: Backstage at Public School Fall 2016
NYFW Men's: Backstage at Public School Fall 2016
NYFW Men's: Backstage at Public School Fall 2016
NYFW Men's: Backstage at Public School Fall 2016