Noteworthy for the New Year
Three designers lend their style to a good cause.
---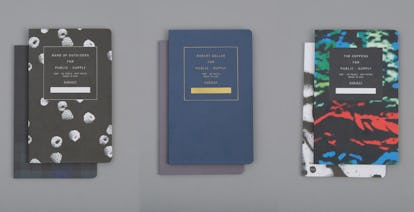 With the New Year just around the corner, it makes sense to turn a fresh page. Luckily, New York-based office supplies brand Public – Supply is launching a cool new collection of notebooks this week. The socially conscious brand recruited fashion designers Tim Coppens, Band of Outsiders' Scott Sternberg, and Robert Geller to create two notebooks each, which range from a surrealist raspberry print (by Sternberg) to an eye-catching, abstracted tie-dye (by Coppens). Proceeds benefit Joe's Blackbook Foundation's scholarship program, which provides grants to young fashion designers. Write 'em up.