Qantas Airways Enforces "No Uggs" Rule in Business Class Lounges
The airline does not approve of the Australian footwear brand.
---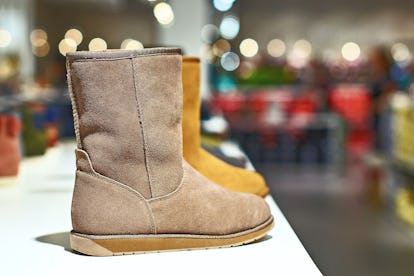 Getty Images
We've come a long way since the days of dressing to the nines for air travel. Nowadays, sweatshirts, leggings, and blanket scarves outnumber suit jackets and formal dresses on airplanes 10 to one—as long as you're not flying Qantas Airways, that is.
This week, Joanne Catherall, a member of the British synthpop band The Human League, tweeted that she wasn't allowed into the Qantas Club lounge at the Melbourne Airport due to, of all things, her choice of footwear. "Denied access @Qantas business class lounge in @Melair Melbourne Airport apparently Ugg (Australia) Boots are deemed sleepwear by the lady working there although no problem in any of the other lounges so far.Helpfully she suggested I go to one of the shops & purchase some shoes," Catherall wrote.
That's right: If you're in an Australian airport, flying the national airline of *Australia, and wearing the most quintessentially Australian* footwear brand (even if Ugg is now based in California), do not expect to be allowed to enter the business class lounge that you've paid a hefty amount of money to access. Of course, it makes plenty of sense, seeing as how utterly offensive to the eye and harmful to the psyche those ultra-cozy Ugg boots can be. Airline passengers must have some nerve to wear the most comfortable shoes on earth on an hours-long journey in a cramped cabin. . .
As laughable as Qantas's Uggs ban may be, Catherall and other Ugg-wearers can't say they weren't warned about the rule. According to travel blog The Points Guy, Qantas is very forthcoming about their guidelines for proper footwear. Signs located in and around Qantas Club lounges in several airports clearly outline the airline's "smart casual dress" code for its business class lounges, which prohibit "head-to-toe gymwear," beachwear, sleepwear, and rubber flip-flops. Accompanying the "no sleepwear" mandate is an illustration of, yes, an Ugg boot with a line drawn through it. Additionally, the Qantas website further spells out the dress code, claiming that "sleepwear (including UGG Boots and slippers)" are "too casual or inappropriate" for the lounge.
The rules may be clearly spelled out, but that doesn't make them any less ridiculous. As Catherall pointed out later, upon discovering the oddly specific guidelines herself, "Why would an @UGG boot I wear outdoors in all weathers be classed as sleepwear in @Qantas lounge but nowhere else that I have ever been on this earth ?" A question for the ages.
From Milan to Beijing, the Best International Airport Street Style
John F. Kennedy Airport, NY.

Photo by Don Duke.
Treviso-Sant'Angelo Airport, Treviso, Italy

Photo by Dean Pelic.
Beijing Capital International Airport, Beijing.

Photo by Wesley Sun.
Processed with VSCO with a6 preset

Photo by Kate Ogata.
Photo by Graziano Di Cintio.
Presidente Castro Pinto International Airport, João Pessoa, Brazil

Photo by Renata Uchoa.
São Paulo–Guarulhos International Airport, São Paulo.

Photo by Raphaël Simacourbe.
Photo by Raphaël Simacourbe.
Dallas Love Field Airport, Texas

Photo by Brighton Keller.
Cabo San Lucas International Airport, Baja California Sur, Mexico.

Photo by Sage Coralli.