After Seven Months, Queen Elizabeth II Resurfaces (Sans Mask)
The 94-year-old joined her grandson, Prince William, and 48 others at a chemical weapons lab near Salisbury, England.
---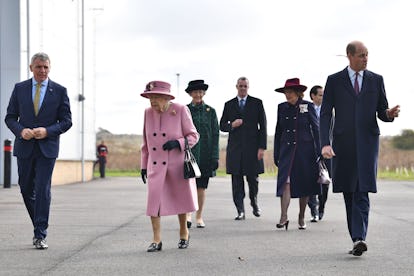 Ben Stansall/AFP via Getty Images
By now, it's well established that not even world leaders are immune to the coronavirus. Brazilian President Jair Bolsonaro and U.K. Prime Minister Boris Johnson have both contracted Covid-19, and it was less than two weeks that President Donald Trump—along with his wife Melania and son Barron—joined their ranks. And while Queen Elizabeth II has done her utmost to avoid following suit, on Thursday, the 94-year-old took the leap. She joined her grandson, Prince William, and 48 others at a chemical weapons lab near Salisbury, England, marking her first public outing in seven months. Like the rest of those in attendance, she even dared to not wear a face mask.
Prior to the event, which marked the facility's official opening, each person present tested negative for Covid-19. But as has been well documented, tests are not fool-proof—and especially rapid tests, which are much more likely to deliver false-negative results. (The reported rate is as high as 50 percent, though at least one test manufacturer has claimed it is near zero.) Newsweek has reported that everyone followed official U.K. government guidelines on Thursday, which include maintaining a two-meter distance from those you don't live with. But photos seem to suggest that wasn't always the case.
U.K. government guidelines advise just a one-meter distance when other precautions, such as wearing masks, are in place. At times, though, the Queen and her grandson appeared to get closer that, even though neither wore masks and have not been living in the same place. "They were traveling from different destinations," a Buckingham Palace source told Newsweek. The Queen took a nearly hour-long helicopter ride from Windsor Castle, while William drove two-and-a-half hours from Kensington Palace. But, the source continued, "everything followed the advice." (That presumably means William wore a mask while en route; England mandates them while in private-hire vehicles.)
Thursday's outing aside, the British royals have seemed to reverse their stance on masking up. Duchess Camilla became the first royal spotted wearing a fabric face mask in late July, and Princess Eugenie has a roster including a limited-edition one by the artist Jenny Holzer. Even Kate Middleton has changed her ways; she finally began wearing one this August, despite having resumed her regular royal duties—which is to say meet and greets—back in June.
Fortunately, there's nothing to suggest that the Queen isn't in excellent health. She's been riding horses daily while in quarantine with her 99-year-old husband Prince Philip, who also seems to be doing well. If she does eventually start masking up, the Queen will have to acquire quite a few; as she demonstrated yet again on Thursday, the 94-year-old is a master of color-coordinating.
Update, October 15, 2:30 p.m.: In response to the speculation and criticism that have followed Thursday's event, a Buckingham Palace spokesperson has issued a statement: "Specific advice has been sought from the medical household and relevant parties, and all necessary precautions taken, working closely with [the Defence Science and Technology Laboratory]." People also reports that the Queen briefly addressed the current state of the pandemic, remarking that Covid-19 "is doubling itself again."
Related: Kate Middleton Finally Realizes She Should Wear a Face Mask