The Queen Took an Anniversary Trot on Her Favorite Horse at Windsor Castle
Queen Elizabeth II was spotted on horseback, trotting around the Windsor Castle grounds for the first time since the start of the pandemic.
---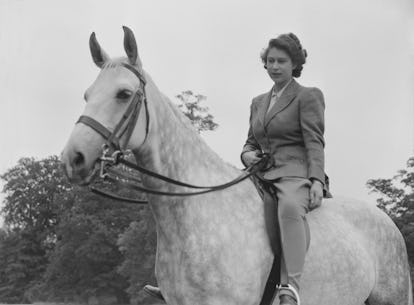 Photo courtesy of Getty Images.
If there's one thing that's been consistent about Queen Elizabeth II's 65-year reign, it is that she has spent a lot of time riding horses, sometimes as often as every day, even up until now, in her 94th year on this planet. Some might even say she is the OG horse girl (with her daughter, Princess Anne, taking things a step further and becoming an equestrian who was the first member of the royal family to compete in the Olympics).
Even during quarantine, when her social calendar was thrown off, the Queen took time to take care of her horses. Earlier this year, her birthday celebration, Trooping the Colour, was canceled and she had to miss the Royal Ascot, all thanks to the coronavirus pandemic. But at least she was able privately celebrate her wedding anniversary to Prince Philip (with a handmade card presented to her by her great-grandchildren, Princes George and Louis, and Princess Charlotte). And what better way to commemorate your 73rd wedding anniversary than with a celebratory trot around the castle in which you'll be spending the second lockdown of the year?
According to the Daily Mail, the Queen was spotted this week riding her favorite horse next to Terry Pendry, the head groom of the stable (the person who carries the responsibility of managing all of the horses and their training and feeding schedules). The horse she rode is also said to have been her favorite.
It's the first time the Queen has been photographed on horseback, though there have been reports throughout the pandemic that she was, in fact, taking daily rides around her property. But if you've been catching up on season four of The Crown, then you'd know better than anyone that the Queen is an outdoorsy woman at heart, and nothing could keep her from riding her horses—not her age and definitely not a global pandemic.
Related: The Crown Fact Check: Were the Queen's Cousins Hidden in an Asylum?