Queen Elizabeth II, 94, Has Been Riding Horses Daily
Even in isolation, the nonagenarian royal remains the longest reigning horse girl alive today.
---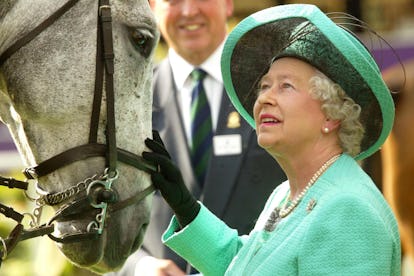 Carl De Souza/Getty Images
Things were already looking bleak for Queen Elizabeth II before the coronavirus pandemic; last year, the monarchy lost three senior royals and managed to get looped into the Jeffrey Epstein scandal. Unfortunately, 2020 isn't looking much better. For the first time since 1955, her annual birthday parade, Trooping the Colour, has been cancelled. The Royal Ascot, one of her favorite events, has been postponed indefinitely. And her son and successor, Prince Charles, contracted the coronavirus. (He has since made a recovery.)
It's no surprise that the Queen is itching to get back to work "as soon as she possibly can," as an unnamed source put it to Vanity Fair. In the meantime, she's reportedly still "very much fulfilling her duties as head of state." (While abiding to official government guidelines, of course.) "It's a delicate line but I think we will see her doing private audiences again and more of the work we are used to seeing her do in public at some point in the future," one source said. "She is still receiving her red government boxes and having her weekly audience with the PM," Boris Johnson.
Still, there's only so much the non-technology savvy can do from a distance. Fortunately for the Queen, that means there's even more time for her favorite activity: horseback riding. The 94-year-old, who is perhaps the longest reigning horse girl alive today, has been in the saddle daily. That's dedication, given her transition to a "fair weather rider" as she aged. ("I don't like getting cold and wet," she said of her riding habits in 2016.)
This isn't the first time that the Queen has unexpectedly been out and about on the grounds of Windsor Castle. While the rest of the royals joined Kate Middleton at the hospital, awaiting the birth of Prince Louis, the then 92-year-old Queen spent the day riding her trusty steed Carltonlima Emma (sans helmet).
"One of the nicest things for the Queen is that she is getting to spend more time with her husband than she usually would," a friend of the Queen's told Vanity Fair. "They have dinner together in the evenings and I imagine the Queen is of the generation where she dresses for dinner." Her outfits may remain a mystery, but rest assured she's still ending her days with a slice of chocolate biscuit cake.
Related: Sixty-Five Years Later, Queen Elizabeth Spills Some Tea on Her "Horrible" Coronation