Style Star: Queen Letizia of Spain
The newly crowned queen is stealing the style spotlight.
---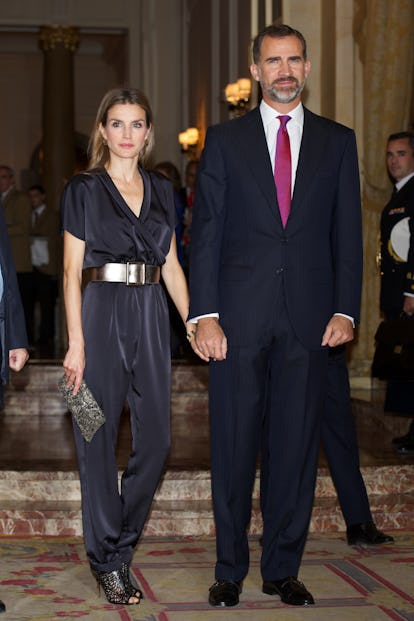 Three and a half years after the royal wedding, we're all thoroughly bored by the Duchess of Cambridge's relentlessly tasteful attire. Thankfully, there's a new chic wife of a monarch to capture our attention: Queen Letizia of Spain, who was crowned this past summer,has slowly shed the power suits of heranchorwomandays and slipped into a wardrobe of slim-fittingsheath dresses and skirt suits, often by local couturier Felipe Varela. Much like KateMiddleton, la reina is unafraid to throw in a highstreet piece from Mango or Zara, for that common touch. Herbest move yet: giving her gowns a restin favor of a sleek Boss jumpsuit forthe 2013 Francisco Cerecedo Prize for journalism—no tiara necessary.
A Royal Success: Queen Letizia of Spain's Style
For a 2003 ceremony celebrating her engagement to Crown Prince Felipe, Letizia Ortiz (her name at the time) opted for a classic white suit and black pumps. If that doesn't say bride-to-be, we're not sure what does.
Photo by Getty Images
For her wedding to Prince Felipe in May 2004, Princess Letizia of Asturias stunned in an off-white Manuel Pertegaz gown. Her "something borrowed" (a diamond and platinum tiara) came courtesy of her new mother-in-law, Queen Sofia. Not bad.
Photo by Getty Images
For a Spanish royal, looking ravishing in red is a must. The former news anchor proved she had what it took early on, with this red gown at the wedding of Prince Frederik of Denmark in 2004.
Photo by Getty Images
Leaving the hospital with her daughter Princess Leonor, the new mom looked serene in a pale yellow pantsuit and nude pointed heels. Take note, Princess Charlene.
Photo by Getty Images
The Princess channeled her medieval predecessors while receiving Vladimir Putin in February of 2006. In an emerald green two-piece and coordinating beaded handbag, Letizia took retro to the real carpet.
Photo by Getty Images
Black and white and glittering all over, Princess Letizia looked effortlessly elegant hosting a dinner for Hungarian president Laslo Solyom.
Photo by Getty Images
Donning a glammed-up version of the classic toga for the 2010 Grecian wedding of Prince Nikolaos and Tatiana Blatnik, Princess Letizia was a vision in periwinkle.
Photo by Getty Images
A pale purple gown by her favored designer Felipe Varela was just the ticket for a pre-event dinner surrounding Kate Middleton and Prince William's highly anticipated wedding.
Photo by Getty Images
For the Francisco Cerecedo Journalism Awards in 2013, Princess Letizia, a former journalist, chose a belted eggplant jumpsuit with open-toe boots by BOSS—because ball gowns and tiaras get a little old after a while.
Photo by Getty Images
Princess Letizia became Queen Letizia—the first commoner to become Queen Consort in Spain's history—in a knee-length dress and embellished coat ensemble by Felipe Varela. Applause, please.
Photo by Getty Images