Queen Letizia Has Been Serving Up Summer Looks From Palma de Mallorca
Summer style without breaking a sweat.
---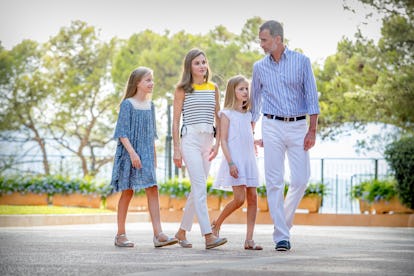 Patrick van Katwijk
Summer might be one of the hardest seasons to dress for, with the ever-shifting temperature extremes from heat to air-conditioning, but doing so with ease isn't entirely impossible. Allow Queen Letizia of Spain to show you how. On a recent holiday to Palma de Mallorca, Spain, the queen has been a model for how to stay free and cool amid a heatwave. Lesson one: Stick to lighter colors.
While heading to take their annual summer garden royal family photo at Marivent Palace, she did so in a pair of crisp, white pants, espadrilles, and a cropped, striped blouse with a pop of yellow by Mango. (The top, which retails for $50, is currently sold out but should it become available again you can find it here While matching looks for a family portrait can easily veer on cheesy, Queen Letizia, King Felipe and their two daughters Princess Leonor and Infanta Sofia coordinated their looks in a subtle, preppy way. The family stuck to a color palette of mostly white and blue.
While bold patterns aren't Queen Letizia's norm — as, Vogue notes, she usually opts for monochromatic looks — she's taken a stylistic turn as of late. When hosting the annual Balearic Islands reception at the Royal Palace of La Almudaina in Mallorca, she stunned in an embroidered floral dress, reportedly by Juan Duyos. She paired the look with a pair of red statement heels in snakeskin.
Most recently, Queen Letizia and family repeated their white and blue aesthetic while out and about in Palma de Mallorca, where they once again put forward picture-perfect coordinated looks. The Queen wore a simple, timeless white eyelet dress by Adolfo Dominguez with strappy sandals and one of the summer's most Instagram-worthy accessories, a basket bag. Meanwhile her daughters wore perfectly mismatched striped dresses — of the horizontal and vertical print varieties — and King Felipe opted for a low-key blue look.
Luckily for us non-royals, Queen Letizia's looks are all fairly easy to repeat. What might not come as easy is walking around in the Spanish summer heat like it's no sweat, quite literally.
A Royal Success: Queen Letizia of Spain's Style
For a 2003 ceremony celebrating her engagement to Crown Prince Felipe, Letizia Ortiz (her name at the time) opted for a classic white suit and black pumps. If that doesn't say bride-to-be, we're not sure what does.
Photo by Getty Images
For her wedding to Prince Felipe in May 2004, Princess Letizia of Asturias stunned in an off-white Manuel Pertegaz gown. Her "something borrowed" (a diamond and platinum tiara) came courtesy of her new mother-in-law, Queen Sofia. Not bad.
Photo by Getty Images
For a Spanish royal, looking ravishing in red is a must. The former news anchor proved she had what it took early on, with this red gown at the wedding of Prince Frederik of Denmark in 2004.
Photo by Getty Images
Leaving the hospital with her daughter Princess Leonor, the new mom looked serene in a pale yellow pantsuit and nude pointed heels. Take note, Princess Charlene.
Photo by Getty Images
The Princess channeled her medieval predecessors while receiving Vladimir Putin in February of 2006. In an emerald green two-piece and coordinating beaded handbag, Letizia took retro to the real carpet.
Photo by Getty Images
Black and white and glittering all over, Princess Letizia looked effortlessly elegant hosting a dinner for Hungarian president Laslo Solyom.
Photo by Getty Images
Donning a glammed-up version of the classic toga for the 2010 Grecian wedding of Prince Nikolaos and Tatiana Blatnik, Princess Letizia was a vision in periwinkle.
Photo by Getty Images
A pale purple gown by her favored designer Felipe Varela was just the ticket for a pre-event dinner surrounding Kate Middleton and Prince William's highly anticipated wedding.
Photo by Getty Images
For the Francisco Cerecedo Journalism Awards in 2013, Princess Letizia, a former journalist, chose a belted eggplant jumpsuit with open-toe boots by BOSS—because ball gowns and tiaras get a little old after a while.
Photo by Getty Images
Princess Letizia became Queen Letizia—the first commoner to become Queen Consort in Spain's history—in a knee-length dress and embellished coat ensemble by Felipe Varela. Applause, please.
Photo by Getty Images
Related: A Royal Success: Queen Letizia of Spain's Style in Photos
See What's Trending in W Video: