Queer Eye's New Fab 5: Meet the Lifestyle Experts Making Every Netflix Binge-Watcher Cry
For the reality television enthusiast, Netflix's endearing reboot of Queer Eye offers a little bit of everything.
---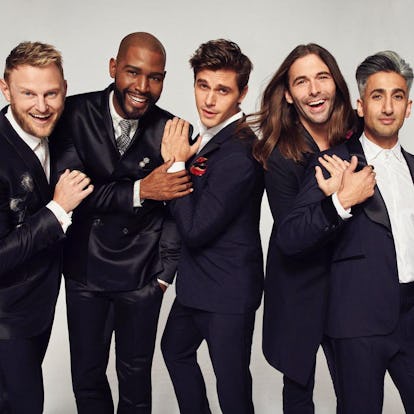 Netflix/@antoni
For the reality television enthusiast, Queer Eye offers a little bit of everything—a home improvement show, a makeover show, a lesson in health and wellness.
The reboot's feel-good, heartwarming message is not lost on its audience—it's a thoughtful and surprisingly nuanced study of self-understanding and building confidence. The original version called Queer Eye for the Straight Guy premiered on Bravo in 2003, and as the Fab 5 explain in the first episode of Netflix's reboot, this new version is not solely about exposure or tolerance, but acceptance—acceptance of queer culture and acceptance of oneself.
Similarly to the original Queer Eye, this version follows a team of men known as the Fab 5 around Atlanta, and their goals of sprucing up the life of a man whose friends and family have suggested for a makeover. The Fab 5 consists of experts in 5 areas—Jonathan Van Ness is the grooming expert, Tan France covers personal style, Bobby Berk redesigns the home space, Antoni Porowski is the foodie of the crew, and Karamo Brown covers "culture," which basically means he's the overall life coach of the team.
You probably have so many questions, like, "Where did the new Fab 5 come from?" and "How is it fair for them all to be so good looking?" or maybe even, "Why am I shedding tears while watching this show?" While some members of the team might be fresh faces, others might be more familiar.
Jonathan Van Ness
Jonathan Van Ness is tasked with improving the subject's hair and skincare routines, but what's really special is Van Ness's own grooming routine. I dare you to get through one whole episode of Queer Eye without feeling envious of his own luscious locks. In conversations, Van Ness drops references to A Streetcar Named Desire at the drop of a hat (seriously, the amount of pop culture allusions he makes over the course of eight episodes is impressive), and manages to always keep it real without ever being mean.
He gained prominence for his appearance on VH1's I Love The 2000s and his a Funny or Die series called Gay of Thrones, where he recaps episodes of Game of Thrones while giving haircuts.
He also now sports a beard that should only be classified as "thicc."
Tan France
The style expert of the group, France swoops in and manages to pare down every man's wardrobe into some well tailored essentials. One question, though—does Van Ness style his perfectly coifed salt and pepper hair?
Bobby Berk
Not so many selfies—although there are plenty of vacation photos featuring his husband—fill up Berk's Instagram presence, but it makes sense that he would mostly share apartment inspo, given the fact that he's the resident design expert on Queer Eye.
Bobby also has the most followers out of all of the Fab 5 on Instagram, so he must be doing something right.
Karamo Brown
You may recognize Brown from his stint on MTV's The Real World: Philadelphia in 2004. On Queer Eye, he's listed as the resident "culture" expert, and as broad as that qualifier may be, he's the one who ends up coaching men on how to market themselves or how to keep their romantic lives in check.
Antoni Porowski
With literary t-shirts referencing A Little Life, that devilish grin and his unabashed love for The Strokes—Antoni is almost one hundred percent perfect. He's in charge of introducing the men to healthier ways of eating, but he may not technically be a chef.
Never mind the fact that there is a campaign to uncover the truth behind Porowski's culinary skills, he is a gift. (Can he really cook, though? Guacamole isn't that hard to make but I'll let you be the judge of that.)
Is that a copy of A Little Life in your hand, Antoni?
Related: Olympics Skier Gus Kenworthy's Cheeky Instagram Will Keep You Warm During the Winter Games