Quentin Tarantino's Favorite Movies From 1979 Should Be Next on Your Quarantine Watchlist
The Once Upon a Time…in Hollywood director said Rocky II was his favorite film that year.
---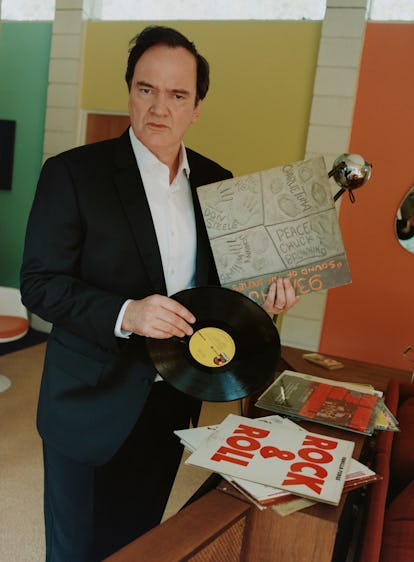 Directed by Quentin Tarantino; Photographed by Angelo Pennetta; Styled by Sara Moonves.
In 1979, Quentin Tarantino was 15 years old, going on 16. He regarded himself as experiencing the first phase of "actually being a teenager." He still took classes at Narbonne High School in Harbor City, Los Angeles, but was on the verge of dropping out—which Tarantino did later that year. The Once Upon a Time…in Hollywood director worked with a community theater group, acting in plays and lending a hand as an assistant stage manager. And his taste for films had already grown to be refined and discerning. That year, Tarantino watched over 30 movies in theaters—to this day, he can recall each of them, as he did during his episode of W's "Five Things" podcast. Working through a list of every movie released in 1979, Tarantino shared his wide-ranging opinions on each one, along with memories from his days growing up in L.A. county's South Bay area. We've compiled here a list of just some of his favorite—and not so well-liked—films from 1979, which should serve as inspiration for your personal quarantine watchlist.
Buck Rogers in the 25th Century
"I saw that a couple times. Gil Gerard, I thought he was really quite good in the movie. And it was actually kind of interesting because Star Wars came out in 1977 and it became the sensation. And so they needed a science fiction movie right away, but they all had to be big. So for a year they're waiting for another science fiction movie, but they've got to make them. But they had done Buck Rogers in the 25th Century for television and they could get it out sooner. So this was the first one out of the gate. Yeah, it was a fun one. I even watched the [NBC adaptation] series for a little bit."
The Bell Jar
"Not only did I see the movie version of Bell Jar, I actually wrote a review for it for a singles' magazine. If you wrote reviews, it would give you the press screening tickets. So I wrote two reviews, [one of which was] for The Bell Jar. Which, again, me writing a review of The Bell Jar with no concept of the book whatsoever."
Hair
Watch on Amazon Prime and YouTube.
"I saw this at the Cinerama Dome [in Hollywood] when it came out. I think Hair is kind of a travesty now, but people loved it when it came out. I loved it back then, I cried to Let The Sunshine In at Berger's grave and everything. And I remember Roger Ebert picked it as his favorite movie of the year. Now I think it's lame. Very lame."
A Little Romance
"I completely identified with the French kid in it."
Last Embrace
"[This is] Jonathan Demme's Hitchcockian thriller that he did with Roy Scheider and Janet Margolin. I liked it a lot. It was a little dry then and it's still dry now…frankly, but I still kind of like it. It's got an interesting…spy story, but it has a big climax that's very exciting."
Alien
Watch on Hulu, Amazon Prime, and YouTube.
"Alien was one of the events of the year. It holds up to this day, as well."
North Dallas Forty
Watch on Google Play, YouTube, and Amazon Prime.
"I fucking loved North Dallas Forty when it came out. The humor was so profane. It has this whole raucous aspect of the humor, but it's also very bitter."
Rocky II
Watch on iTunes, Google Play, and Amazon Prime.
"Now, this was my favorite movie of the year in 1979. I like Rocky II even more than Rocky. Stallone, his follow-ups didn't do well and the press made a big, big deal about that, about how F.I.S.T. flopped. And Paradise Alley was a flop. The press machine that had made him the Cinderella boy was now rolling over on him, and they go, 'Oh well, he can only play a stupid boxer. And that's all he can do and he's completely flopped out and he's a real loud mouth in his press interviews.' And so then he comes out with Rocky II and now he's directed Rocky II. So Rocky II kind of has to work or he is Sylvester come lightly. And it's a smash. It's a terrific movie. It actually betters on a lot of the aspects of Rocky and he is… beyond charming in the film. To see him play the Rocky character again, it actually reminded you why you like Rocky so much in the first place. The first Rocky movie is more of a character study. This is more of a personality…expansion, but it works completely as a personality expansion. It's just he kind of has the audience in the palm of his hand. I was so happy for him, that he pulled it off and the movie meant a lot to me and it was, again, it was inspirational and you're always trying to get in shape after you see the movie because you got caught up in the montage."
Apocalypse Now
Watch on Hulu, HBO Go, and Amazon Prime.
"To me, Rocky II was my personal favorite movie, but Apocalypse Now was the movie of the year as far as I was concerned. And I took the bus to Hollywood to see it at the Cinerama Dome, and got the program that they gave out, and I still have the Life magazine where they have [Marlon] Brando on the cover. I was into everything about Apocalypse Now."
Star Trek: The Motion Picture
Watch on YouTube, Google Play, Hulu, and iTunes.
"I talked myself into liking this movie. I saw it again, and I didn't quite like it. Then I saw it again about 10 years later, and I didn't quite like it. But then I saw it two years ago, and I showed it to Daniella, my wife, and she had never seen any Star Trek movies, and she liked it. And finally seeing it a fourth time completely taking in what it's not? I finally could see it for what it was. I kind of appreciate it. Also, it was just kind of fun seeing William Shatner starring in literally, at that time, the most expensive movie ever made."
All That Jazz
"I ended up having a private moment with All That Jazz. By this point in time, I'm lying about my age and I'm working at the Pussycat Theater. So, I'm working in a porno theater. I'm 16 years old, saying I am 18. I just get off work, and it's Friday night, and I just got paid, and I go see All That Jazz. And while I'm in the theater, I lose my paycheck. It was a disaster. And I still love the movie—I still thought it was terrific."
Richard Pryor: Live in Concert
Watch on Netflix.
"I obviously saw Richard Pryor: Live in Concert."
The Warriors
Watch on Amazon Prime and YouTube.
"The Warriors absolutely started riots [when it came out]. And I'm a big fan of this movie. We screened it recently at the New Beverly."
La Cage aux Folles
(Technically released in 1978, this film deserves an honorary mention). Watch on Amazon Prime, Google Play, and YouTube.
"Brought the house down. To see La Cage aux Folles in 1978, when it came out, on a Saturday night, in a jam-packed theater. You never heard hilarity like the last 20 minutes of that movie. I mean, it just brought the house down. I re-watched that about two years ago at home with a buddy, and we were surprised at how much we were laughing. We thought it was so funny."
Related: Quentin Tarantino on His First Trip to Sundance and Every Film He Saw in 1979