Quentin Tarantino on His First Trip to Sundance and Every Film He Saw in 1979
Listen to part two of his conversation with Lynn Hirschberg on the "Five Things" podcast.
---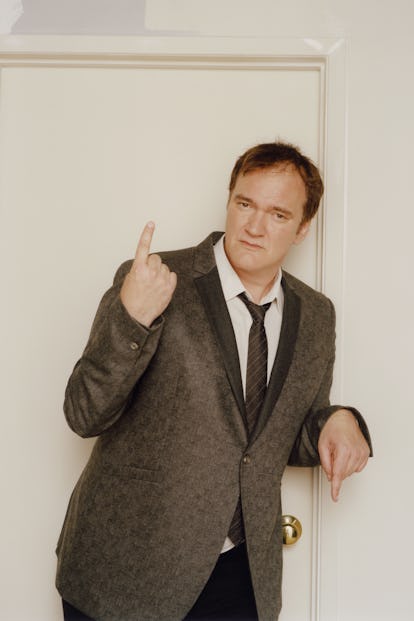 Quentin Tarantino photographed by Colin Dodgson, courtesy of Colin Dodgson and Art Partner.
On Five Things with Lynn Hirschberg—the brand new podcast from W—Hollywood's brightest sit down with the magazine's Editor-at-Large to talk about "Five Things" that have made them who they are: a person, a place, an object, one positive event, and one negative event that ultimately turned into something positive.
The result: candid, insightful, intimate conversations guided by Hirschberg's singular skill as an interviewer. Topics range from the deeply personal to the nitty-gritty professional—Hirschberg covers the craft of filmmaking and the ins and outs of public life with equal parts curiosity, sensitivity and humor.
In part two of Hirschberg's conversation with Quentin Tarantino, the filmmaker reflects on his first experience at the Sundance Film Festival in 1991, when Reservoir Dogs premiered.
To listen to the full podcast, click on the link below:
"It was exciting because the whole life experience of it all was very exciting," Tarantino tells Hirschberg. "But the other thing that was really, incredibly exciting was… the films that played at Sundance that year were to start an explosion of American independent cinema that would last for the next six years."
"People saw these movies. It was a bit like being a rock star. Young people in college were following them and all of a sudden now it wasn't music performers that they had on their wall. It was like the poster from the independent movie that they liked," Tarantino recalls.
Tarantino also goes through every single film he saw in theaters in 1979—including The Deer Hunter, which he went to see six times.
"Deer Hunter would have been the movie that would have been the movie of the year for me," Tarantino tells Hirschberg. "I thought it was the best movie ever made. I thought it was the best movie I'd ever seen."
But, he concedes, "Rocky II would have been the movie that I enjoyed the most."
To subscribe to "Five Things", go to Spotify, Anchor or the Apple Podcasts app.
To listen to the first half of Tarantino's conversation with Hirschberg, click here.