Quinn Shephard Just Wrote, Directed, and Starred in a Remarkable Debut Film at 20 Years Old
The actress's first film Blame was the breakthrough of 2017 Tribeca Film Festival.
---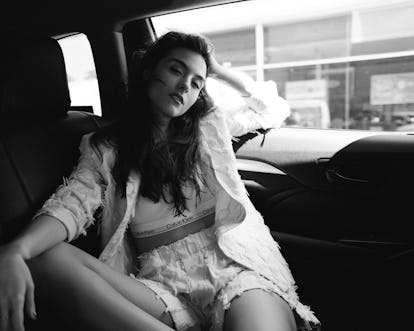 It is easy to imagine a first-time director feeling the pressure to kowtow to creative concessions suggested by older, more experienced naysayers. Quinn Shephard is not that kind of first-time director. The actress's debut feature film Blame, which she wrote, directed, produced, and starred in when she was just 20-years-old, just had its world premiere at the Tribeca Film Festival in the U.S. Narrative competition (Shephard's co-star, Nadia Alexander, nabbed the Best Actress award). It has already attracted its share of dumbfounded critical acclaim, with one reviewer calling it a "startlingly confident debut." And aside from initial doubts about the stress load of such an endeavor—she wrote the initial draft of the screenplay when she was only 15—she was defiant about maintaining control of her ideas.
"I really couldn't give it to anyone else. I knew what I wanted. And then I was just like, 'F—, I'm going to direct this film," explained Shephard, now 22, over coffee at a Williamsburg café. Dressed in a white Rachel Antonoff shorts suit open over a white Calvin Klein Underwear bra and Chuck Taylors on her feet, she could pass as a hipster waif. But her steady gaze and hyper-articulate speech telegraph that here is a young woman who means business. "There were a lot of people who also didn't think I should edit [Blame]. And I did. And I'm very happy I did because a lot of the film was shaped in the edit."
Shephard first had the idea for Blame after starring as Abigail Williams in a regional production of The Crucible in her native New Jersey when she was 15. Struck by the issues of power and sexuality embedded in the Arthur Miller play, she wondered, What would a modern day retelling of Abigail Williams' story look like? The result is Blame, a tale of a reticent, bullied high school girl, Abigail (Shephard), who falls in love with her English teacher, Jeremy (Chris Messina). They tentatively begin an intellectual and romantic affair, set against the backdrop of a production of (what else?) The Crucible, in which they are performing a scene as Abigail and John Procter, respectively. Abigail and Jeremy's increasing intimacy enrages a fellow student, Melissa (Nadia Alexander), a popular, leather jacket-clad troublemaker who is at once disparaging and envious of Jeremy's affection for Abigail, and who is intent on exposing them. Despite what its title might suggest, Blame refuses to point an obvious finger—no character is as clean or dirty as he or she appears.
"Blame fools audiences into thinking it's going to be a more familiar story. And then as it unfolds, it shows you an intimate look at characters you've maybe seen a million times, but not in this way," explained Shephard, who shares "story by" credits on the film with her mother, Laurie Shephard, a former actress who helped her develop the screenplay and acted as the movie's casting director. "And I think it's important that we don't watch films and keep over-sexualizing 16-year-old girls and keep turning them into, Oh, she's the outcast, she's the schoolgirl, she's the bad girl, she's the slut. And not get to know them because it just gives us permission to write off those girls."
Shephard's proximity in age to her young co-stars—not to mention the fact that as Abigail, she had to film some sexually sensitive scenes—gave her a particularly informed touch as a director. She kept closed sets for intimate scenes, and did many rewrites of the Melissa character to better mesh with Alexander's acting style and comfort level.
"I was always really fascinated with the concept of the male gaze and these weird niche fetishisms that we have in the media," Shephard said of the tropes with which she toys, knowingly, in Blame (the cheerleader, the promiscuous schoolgirl). Such topics, she points out, are "very different if [they're] being directed by a 55-year-old man who puts you in a plaid skirt. When I was doing it, I was just yelling at the girls, 'More tongue!'"
Growing up in New Jersey, Shephard's mother would take her along on auditions as a bit of fun and bonding. It meant Shephard began acting when she was three, though as she put it, "my career was very, very part-time" until high school. She has appeared in a steady smattering of films and TV shows, including the network series Hostages (co-star Tate Donovan plays Melissa's stepfather in Blame), Person of Interest, and The Blacklist. Since turning 18, she has jumped into acting more full-throttle; she recently shot a pilot for NBC and she stars in the upcoming films The Miseducation of Cameron Post with Chloe Grace Moretz) and Midnight Sun with Bella Thorne, among other projects.
But as much as Shephard loves acting, her long-term dream is behind the camera. She has a pilot for a 10-episode miniseries she recently finished, a psychological thriller revolving around a Catholic girls school's dance team, that she hopes to shop around.
"I just really want to tell stories that feel like me. And I'm very stubborn and I want to stick to my vision," she said. "Going forward, I feel like I'm going to be really steadfast about that, who I want to cast and what I want to say. And hopefully, people will go for it."
Related: Zoey Deutch Is Ready to Be Hollywood's Next Leading Woman, Right Now
Watch Laura Dern and Naomi Watts Open Up About David Lynch, and Tease "Twin Peaks":