Rachel Comey Turned a Fashion Show into a Political Gesture
For her Fall 2020 collection, the New York designer put clothes into the context of real life.
---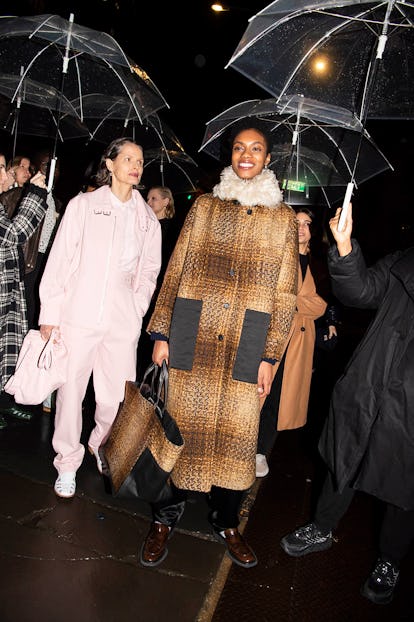 At Rachel Comey's dinner-slash-fashion-show last night at the Soho restaurant La Mercerie, the writer, model and Olympian Casey Legler stood up to address a crowd that included Debbie Harry, Cindy Sherman, Zadie Smith, Ryan McGinley, and Molly Ringwald.
"Rachel Comey has taken on a mythological status in my house," Legler, who is also the VP of partnerships for the restaurant, said. As pillar candles burned and guests served each other from family-style bowls of salad, she told the story of how the evening came together. Legler's wife, the activist Siri May, had worn one of Comey's dresses to speak at the United Nations. Legler sent Comey a photo, they all ended up getting coffee, and Legler invited Comey to do something at La Mercerie, which is part of the cavernous RW Guild, a store run by the design firm Roman and Williams.
Speaking on the phone the day before the event, Comey said the story is the kind of thing that fuels her and her team's design process. "We all get so much pride and motivation and inspiration when we hear stories like that. Real women doing their work that they're passionate about—important, meaningful work—and that our clothes helped them," Comey said. "That was a good day."
The eclectic dinner party format isn't new for Comey. She held her first dinner/show hybrid at Pioneer Works in September 2013, an event that was notable not just because it lasted longer than the standard 15 minutes, but because it was in Brooklyn. This year, she and Legler built upon the concept, inviting women they admired to speak and perform in between each set of looks.
As models wearing boxy forest green leather suits, slinky knit pants, acid washed denim shirts, necklaces that doubled as tiny bags and pearl-encrusted cotton eyelet dresses made their way between tables, Justin Vivian Bond, wearing a black moire silk Rachel Comey dress with puff sleeves, sang accompanied by an acoustic guitar.
As they finished up a rendition of "You're So Vain," they shared the first of many 'Rachel Comey origin stories' of the evening. "When I went to London to get my degree in cocaine. I took a lot of Rachel's clothes with me," Bond deadpanned. "I don't do cocaine anymore, but I still wear Rachel's clothes."
Lourdes Riviera, the Senior Vice President for U.S. Programs at the Center for Reproductive Rights, spoke about the implications of the upcoming Supreme Court case regarding abortion legislation in Louisiana, and the writer and podcast host Aminatou Sow gave a speech about the politics of friendship ("You can't be surprised that white supremacists are marching in the streets if your life is racially segregated").
Alex Auder, a yoga teacher and wellness culture satirist who also modeled in the show, led everyone (eyes closed!) in a semi-ironic, guided "neoliberal" meditation as they all polished off bowls of chocolate mousse.
Of the thread that united all of the evening's performers, Legler said: "Everyone stands behind this idea that beauty and strength are not mutually exclusive." Also, they all happened to have Comey's designs in their closet. "As these folks have become massive ballers in their fields, they have naturally gravitated toward Rachel's stuff," Legler said.
Comey's textural, idiosyncratic designs—woven fanny packs and sprays of tinsel-like fringe have made frequent appearances over the years—have occasionally been pigeonholed as only for "artistic" types. But the overall feeling yesterday evening was that the clothes she makes help people in various fields communicate and embody their own power.
"A friend of mine called it the thinking woman's wardrobe. And I always was really very flattered by that," Comey said. "It does lean towards the creatives, but not only—we dress lawyers and business people, too. But, then again, I find lawyers and business people can be very creative."
Even after 20 years in the industry (Comey's first show was held on the street in Tribeca, four days before 9/11) she has maintained the scrappy, communal feeling of a breakout brand. "I feel in some ways I'm still very much an outsider to the fashion world," Comey said. "Someone was asking me recently for advice for young designers and I was like, 'Am I the young designer or am I the established one in this question?'"
The real question: Is the idea of being in the establishment even appealing anymore? This season, multiple designers decided not to show their collections in New York or at all, opting for look books or West Coast events instead. I went straight to La Mercerie from a runway show at Spring Studios, where getting to the venue had all the charm of being herded through security at a regional airport.
The format of Comey's show felt not just refreshing, but like a genuine political gesture. She displayed her clothes amongst the stuff of real life, rather than on a disembodied stage.
"One of the great things about these events is that we're able to put fashion into the context of a broader conversation and put people that we admire next to each other," Comey said. "They may or might not know each other. They're at a table over dinner, they have time to meet people, converse, share ideas, and just take away a sense of community. Whether they're an artist, a writer, an activist, an educator, all of that cross communication is so valuable these days."