Take All Your Donald Trump Frustrations Out Here
Artist Rachel Harrison's collection of papier mâché Donalds, at Greene Naftali gallery in New York, are getting high approval ratings on Instagram.
---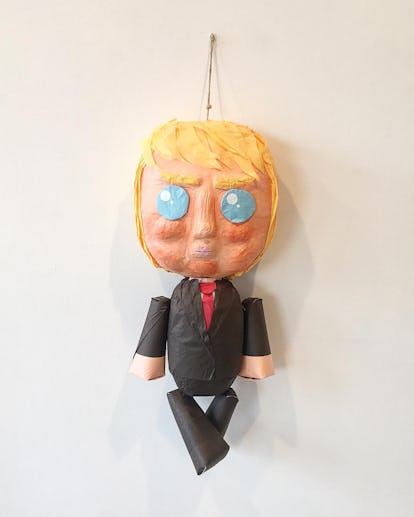 If you've ever felt a violent urge toward Donald Trump, your opportunity might soon be in reach, thanks to the artist Rachel Harrison. She's filled the walls of Chelsea's Greene Naftali gallery with piñata versions of the politician in an exhibition that, quite unlike Trump's run for presidency, has shied from media attention.
It went up quietly about a month ago, and Harrison has since declined to offer any comments – or even a press release. But if the show's other sculptures (Trump with a bag over his head, Trump upside down in a trash can, and so on), are any indication, it doesn't seem as if the artist is exactly nonpartisan. (The show, though, has its complexities: It also features Harrison's 2-D likenesses of Amy Winehouse and Al Pacino, both damaged after a security guard opened fire before committing suicide in the Ohio exhibition where they were briefly featured last year.)
While creating piñatas of less-than-popular public figures is somewhat of a tradition in Mexico, where Trump piñatas have been selling out for months now, it seems to take a certain type of, well, bashable politician to prompt American artists to turn to papier mâché: The last seems to be the L.A. artist Mungo Thomson's George W. Bush series a few terms ago, though American Apparel employees' version of their CEO also deserves an honorable mention in the annals of piñata takedowns. Harrison's, on the hand, which she sourced mostly from the Piñata District in L.A., are only up for another week.
Watch W's most popular videos here: