Rachel Hilbert Loves a Good Mascara
The new face of Victoria's Secret PINK shares a page from her beauty notes.
---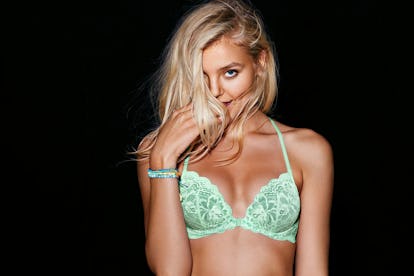 This week, 20-year-old model Rachel Hilbert was named the new face of Victoria's Secret PINK, following in the footsteps of past PINK models Alessandra Ambrosio, Behati Prinsloo, and Elsa Hosk. "My first bra was actually from Victoria's Secret PINK!" she says. Before she starts her whirlwind adventure, which will include appearing in PINK ads and at the brand's events, we asked the young model to share a few of her beauty secrets.
Define your beauty look in three words: Cat-eye, simple, and fresh.
Daily routine: If I am working I usually like to work out in the morning, but if I'm feeling a bit tired I have a cup of coffee in bed and talk to my mom on speaker when I'm getting ready! If I'm not working I try to cherish that time the most, to get sleep, train with my trainer, write in the park, hang out with friends, and ride my bike; and at night I love to go to a nice dinner, or cook at home and have a movie night! My schedule keeps getting busier and busier so when I have time off, I try to use it right.
Never leave the house without: Keys, wallet, and phone!
Exercise regime: I really love being active and working out. My workouts vary from kickboxing, Pilates, yoga, barre classes, and sometimes running… I also love dancing!
Beauty essentials: A good mascara, sea salt beach spray for the hair, and a simple face moisturizer.
Skincare secret: Water, rose water, and sleep.
Hair remedy: On days I'm not working I just take a shower and air-dry it! I also love to use hair oil to keep it moisturized.
Spa-cation destination: Somewhere tropical, where I could get a massage outside and hear the waves crashing.
Fragrance of choice: In the middle of switching up my fragrances. I haven't found one in 100 percent in love with, but I use Chloe for now!
Day to night look: Try to wear little to no makeup and usually a causal look [during the day]. At night I love a good cat eye and mascara, also love a good pair of heels, it makes you feel super sexy.
Air-dry or blowout: Air-dry.
Best advice from mom: She's my best friend so she gives me a lot, probably the best is when she says just breathe and let things happen the way they happen.
Necessary splurge: Definitely nice hand bags.
Beauty icon: Grace Kelly as she is so beautiful and elegant.
What's your favorite thing about working with Victoria's Secret PINK? There are so many things that I love about working with Victoria's Secret PINK. I love going to work in the morning and having an amazing team to work with and modeling clothes that I love and can express my personality in—plus all the cool places we get to go for location jobs, from St Barths to Yale University. It's all a wild experience and I feel really blessed to be a part of it.