Legion's Rachel Keller Is Ready to Conquer the Marvel Universe and Beyond
The 25-year-old actress stars opposite Dan Stevens in Fargo mastermind Noah Hawley's new X-Men series on FX.
Photographs by Dyan Jong
---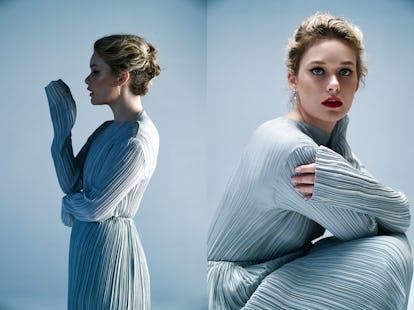 The Row top and skirt, price upon request, therow.com, Paul Andrew shoes, price upon request, paulandrew.com, Pearl Collective earrings, price upon request, pearlcollective.com. Photo by Dyan Jong, styled by Megan Gray. Produced by Biel Parklee. Hair by Derek Waters, makeup by Ermahn Ospina. Photography Assistant: Ryan Joaquin.
Though she usually lives in Los Angeles with her 74-year-old grandmother, a sailor, the actress Rachel Keller found herself in Houston earlier this month. It was the Super Bowl, after all, and Keller had plans to cheer on the underdog Atlanta Falcons with Noah Hawley, the TV mastermind and creator of Fargo. "I'm honored to say that he's a friend," Keller said on a recent morning in L.A. "I mean, I sort of can't believe it."
It's about time she did, given the pair's track record over the last few years. Keller, now 25, was eking out a post-acting school existence nannying, hostessing, manning a juice truck, and even selling homemade vegan baked goods when she landed her next gig: playing the femme fatale Simone in Hawley's FX series, Fargo. That was the breakthrough job that made the previous ones worth it.
The second season wrapped in 2015, but Hawley soon called her up to audition for a lead role in Legion, his X-Men spin-off series that premiered last week on FX. To her delight, her co-star is Downton Abbey's Dan Stevens. ("I love me some Matthew Crawley," Keller said, laughing.) Luckily, the actors hit it off; otherwise, it would have been much harder to communicate their onscreen relationship, which is not exactly the steamiest.
"He's not sure if she's real, and she doesn't want to touch him," Keller said of their "very, very unique love story," which begins when Stevens's character, Haller, spies Keller's Syd at the mental institution, Clockworks, where they first meet. It's love at first sight (hallucination?), and the relationship moves swiftly: they've barely exchanged more than a few dozen words before Syd accepts Haller's mid-group therapy session proposal to be his girlfriend, marking the start of a hands-off relationship between two mental patients that has more than its share of elaborate making do, from kissing via window reflections to holding a piece of fabric instead of each other's hands.
Syd's modesty, though, is not just a show of chastity. She's a mutant who'll switch bodies with anyone her skin comes into contact with—a relatively minor drawback compared to what Haller experiences with his powers: hallucinations and voices he spent his life believing were symptoms of schizophrenia, but are actually the side effects of being one of the most powerful mutants alive.
You won't find any of this in the original X-Men series. Haller might pre-exist in the Marvel universe—he's the mutant son of Charles Xavier, aka Professor X, played in the films by Patrick Stewart and now James McAvoy—but his story has been created by Hawley, along with the timeless world that he now populates. Syd, on the other hand, is completely imagined: her full name is Syd Barrett, a nod to the late Pink Floyd frontman—not that Hawley ever filled Keller in on that particular reference. "Noah doesn't really talk to you about those things—if you want to discover that on your own, it's there for you to find," Keller explained.
Still, Barrett's real-life struggle with mental illness and drug use proved just as helpful to Keller as the X-Men comics, which were not on her reading list before the series. "My interest in X-Men before extended not past the movies," she said. "I had more of a Calvin and Hobbes kind of comic profile before."
But X-Men is timely. After all, it has always been about outsiders, making its themes all the more urgent under the Trump administration, which has put marginalized communities under continuous threat. "The show is from the perspective of a guy who's not sure what's real or not, and I think we're all having a bit of a hard time grasping reality," Keller said. "It's a comment on how we deal with people who are different, and how we maybe suppress them unconsciously."
Which is also why her character, Syd, means so much to Keller. "I feel like her journey is a journey that other young women go on," Keller said. "Young girls in particular aren't given a space to be messy and complicated and express themselves and experiment—they're told to be a little quieter and a little less than."
Keller got her start as an actress early, attending a performance arts high school in Minnesota—something she made sure to point out to Hawley in her first-ever audition for Fargo—before heading off to study theater at Carnegie Mellon and moving to L.A., where she still lives with her grandmother. These days, though, acting keeps her away even more than those sailing trips, and the actress already has her eyes set on Legion, season two (as of yet unannounced). And while she's taking things slow on purpose, she's open to projects outside of the Hawley-verse, too. "I want to do good stories, and I want to work with really interesting people," Keller said. "And if it's Noah Hawley forever, that's also amazing."
Watch W's most popular videos: