Rachel's New Role
"I have that bag in black," says Rachel Bilson, spying my navy patent Tory tote. "And I love your shoes." In town from L.A. on Tuesday to promote the DVD release of Jumper, the 26-year-old...
---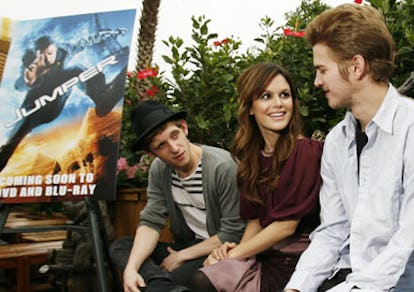 Holding court on a rooftop on lower Fifth Avenue, Bilson was also happy to chat about her latest side project: her upcoming collection for DKNY Jeans. Dubbed Edie Rose after her a few key grandmothers in her life (her own and a close friend's) the 15-piece line is slated to hit stores in September.
If it's a hit, Bilson, who is also starring in the print campaign, is hoping for an Edie Rose sequel or two. "I think there's potential for it to be on-going," she says. "I definitely have an interest in continuing. We'll see how it goes."
And in the meantime, she's diving into the nitty gritty. "I just had my first sewing lesson," she says. "My skirt came out 10 times too big, and it's sort of a mess, but I did learn how to use a sewing machine. So I'm on my way."
Photo: Bilson, flanked by Jumper co-stars Jamie Bell and Hayden Christensen.