Raf Simons Bids Adieu
In case you missed them, here are the top style news stories of the week.
---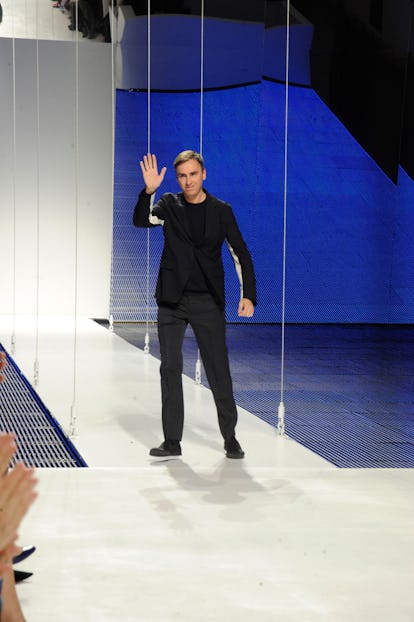 AppleTV Launches the fashion channel Made2Measure. RIP Style Network.
Backstreet Boys Are really back, thanks to a performance at the H&M x Balmain show earlier this week.
Beyoncé Tells her assistant to stop touching her on the red carpet. Never stops smizing. Proves she's a true queen.
Drake Broke the Internet thanks to a dad-tastic Acne Studios turtleneck.
Ford, Tom Allegedly named a lipstick after Drake. Unfortunately, did not rename his ready-to-wear line. Yet.
Hadid, Gigi Directed the "Cake by the Ocean" music video for Joe Jonas's band DNCE. The couple that collaborates together stays together.
Hilfiger, Tommy Released virtual reality headsets for shoppers, makes everyone nauseated.
Lanphear, Kate Steps down as editor-in-chief of Maxim after only a year. Safe to say she was maxed out.
Jenner, Kendall Dyes her hair pink, becomes ringleader of the pastel possé.
Sevigny, Chloë Strips down in the new Apple Watch ad. Toto, I don't think we're in the '90s anymore.
Simons, Raf Announced that he's leaving his Creative Director position at Dior to focus on his men's brand. Maybe this means he'll join Instagram.
Waterhouse, Immy Stars in a Tommy Hilfiger campaign with her supermodel sister, Suki, proving the hottest accessory in 2015 is a sibling.
Winslet, Kate The actress refuses to let Lancôme photoshop her face or body in any of its beauty ads. What you see is what you get.
Zendaya Called out Modeliste Magazine for retouching her flawless hips and torso. Wins the week.
Highlights from Raf Simons' Tenure as Creative Director at Christian Dior
Christian Dior Couture Fall 2012
Christian Dior Spring 2013 Runway
Christian Dior Couture Spring 2013
Christian Dior Fall 2013 Runway

Photographer: Mikael Jansson Stylist: Edward Enninful
Dior Spring 2014
"The season's embellishment and plissé trends, deftly executed by Raf Simons at Dior." – Armand Limnander
Photo: WWD
Christian Dior Fall 2014 Couture This printed ballgown is fit for a modern-day Marie Antoinette.
Photo by Giovanni Giannoni/WWD.
Christian Dior Fall 2015 "Raf Simons said he was inspired by the animal kingdom, designing a new kind of urban camouflage at Dior."
Courtesy of the designer.
Christian Dior Pre-Fall 2015 "The Fair Isle sweater gets a glam update at an amazing show in Tokyo." – Karla Martinez de Salas
Courtesy of the brand
Christian Dior Spring 2015 Couture "A dress fit for an infanta—a rebellious infanta with a protective PVC coat and ultra slick boots, that is."
Courtesy of the designer
Dior Spring 2016 "Raf Simons's collection at Dior, inspired by Victorian underpinnings, delivered the chicest possible version of the season's dishabille trend." – Armand Limnander, Executive Editor
Courtesy of the designer.