Raf Simons: The Luckiest Guy in the Upper East Side
The designer is doing just dandy after Dior.
---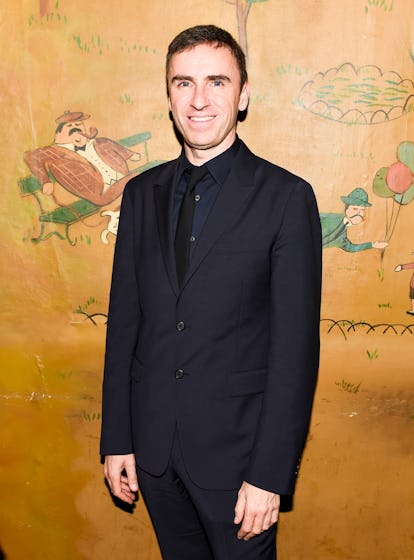 So, how is Raf Simons doing after Dior?
The fashion world has been curious to know ever since the Belgian designer abruptly quit the venerable French house two weeks ago, on amicable terms as they keep reminding us.
A number of interviews conducted before the split have been published, but Simons himself has maintained a Garbo-like silence. On Thursday, he offered a clue to his state of mind.
It was around midnight and Simons was in the Upper East Side. After the Dior-sponsored Guggenheim International Gala, a crowd took over the stately Bemelmans Bar and turned it into a nightclub. The bartenders in their classic red sports jackets handed out whiskey sours, the Steinway that usually plays standards served as a coaster. In the middle of it all was Simons. He seemed, for the first time in a while, happy. Between Cindy Sherman and Jean-Georges d'Orazio, Simons danced, danced with the abandon of a man with nothing left to prove. The song playing? George Michael's Freedom '90.
In the weeks leading up to the Dior Spring 2016 show, Simons talked to anyone who'd listen, including Cathy Horyn in a wide-ranging interview for System, about the relentless, punishing pace of the collections calendar. The pressure on view in the 2014 documentary "Dior & I," which chronicled his first collection for the house, only accelerated in the years since. And then, suddenly, he was out – no deadlines to meet, no back-to-back meetings, no interviews with reporters. Freedom.
"I loved what Raf did but I'm excited for the next chapter. I'm sure he's excited for his next chapter. I saw his documentary and it seemed that was the depths of hell for him," actress Emily Blunt had said earlier.
For once at a Dior function, Simons didn't have to work the room and could just sit back and bask in the adulation of his tenure. In fact, the Guggenheim gala's two days – split into one night for the kids (the Young Collector's Council) featuring a performance by Grimes, one night for the grown-ups (the board of trustees) featuring a ballet performance choreographed by Tom Gold Dance – played like Simons's grand victory lap.
"Raf has been an inspiration since Day 1," said the rapper A$AP Rocky, who could hardly contain his fandom. "What he did at Jill Sander? C'mon. Raf at Dior was a dream come true. But good things don't last forever, as they say."
In a departure from the awkward dance that has followed other recent designer exits – Alber Elbaz from Lanvin, Donna Karan from her namesake label – Dior has maintained a strict policy of appeasement with its former creative director. On stage at the gala, chief executive Sidney Toledano described their relationship now as "a bridge of friendship." Their chapter is ending on a good note because, at the end of the day, Dior is not defined by any one designer. This was clear even when the documentary premiered. In a throwaway moment, a tailor tells the camera: "The designer may change at Dior, but one thing that never changes: the atelier."
During dinner, Marisa Berenson was asked to put Simons's exit in the context of the history of the label and French fashion. She shrugged.
"Dior will always be," she said. "I've been wearing it for a long time and I've seen a lot of designers. It is the essence of French fashion and it will always be, whoever comes in next."
Photos: Raf Simons: The Luckiest Guy in the Upper East Side
Raf Simons. Photo by bfa.com.
Dakota Johnson and Emily Blunt. Photo by Getty Images.
Elizabeth von Guttman, A$AP Rocky, and Alexia Niedzielski. Photo by bfa.com.
Dancers perform "November Steps" choreographed by Tom Gold. Photo by Getty Images.
Kiernan Shipka and Dakota Johnson. Photo by Getty Images.
Dakota Johnson and Raf Simons. Photo by Getty Images.
Raf Simons, Jean-Georges d'Orazio, Jack McCollough, and Lazaro Hernandez. Photo by bfa.com.
APigeon. Photo by bfa.com.
Giovanna Battaglia. Photo by bfa.com.
Olympia Scarry and Victoire de Castellane. Photo by Getty Images.
Leelee Sobieski. Photo by Getty Images.
Peter Marino and Sidney Toledano. Photo by Getty Images.