Raf Simons Is the New Calvin Klein
The former creative director of Dior takes over at Calvin Klein, the first time since Calvin himself that one designer has overseen the whole brand.
---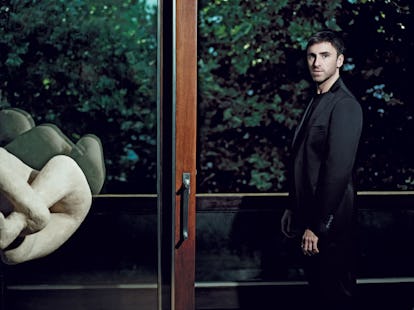 Willy Vanderperre
Calvin Klein announced Tuesday, to exactly no one's surprise, that Raf Simons is taking over as chief creative officer of menswear and womenswear. He'll essentially oversee the entire Calvin Klein company — his longtime second-in-command, Pieter Mulier, will take the title of creative director, reporting directly to Simons. And not since Calvin himself was at the helm of his eponymous brand (he retreated from the design process with the label's sale in 2002) has one man (for it's always been designed by men) had total creative dominion.
It gives Simons an enormous amount of freedom — something he lacked at Dior, and widely cited as the reason he departed the brand to focus on his own eponymous label — to play with the mainstays of Calvin Klein. Klein and Simons share an affection for minimalism, and, as Cathy Horyn wrote in New York magazine, his new post offers him something he couldn't get at Dior: "the opportunity to reshape the identity of an iconic brand, from its designs to its advertising to its choice of celebrity models." And, as this season has evidenced, Calvin Klein loves a celebrity model.
Simons stepped down from his post as creative director of Dior late last year, one of the earlier resignations in what's become a near-monthly shakeup across major labels. Calvin Klein's designers for menswear and womenswear, Italo Zuccheli and Francisco Costa, respectively, departed in April this year, and Maria Grazia Chiuri, late of Valentino, left design partner Pierpaolo Piccioli at Valentino to take up Simons's mantle at Dior last month.
And who knows — this latest move could be just what New York Fashion Week needs, though Simons won't show his first collection until next February.