A Complete Recap of Raf Simons's Prada Debut
Raf Simons and Miuccia Prada came together for their first show as co-creative directors (and had a chat about coffee and Coke Zero).
---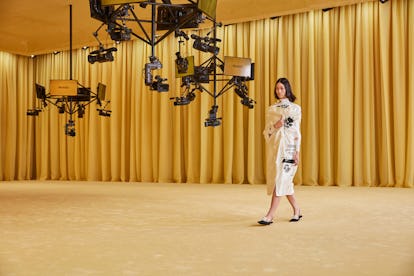 Courtesy of Prada
The pandemic has not stopped Milan Fashion Week from forging ahead with IRL runway shows. But the highlight of this week's schedule—not to mention the entire spring 2021 season—was virtual. At 2 p.m. in Milan on Thursday, after nearly seven months of anticipation, Prada presented its first collection co-creative directed by Miuccia Prada and Raf Simons. It was a pre-recorded video, but viewers were riveted—even those in Los Angeles, who had to wake up at 5 a.m. (The house sent pastries and raspberry jam to select editors as consolation.)
Perhaps the virtual format was for the best. Cameras offered closeups even front-rowers wouldn't have seen, as (distanced) models traversed a yellow carpeted room. And with each shot, Simons and Mrs. Prada's synergy became more and more evident. No wonder the collection was titled "Dialogues."
For spring 2021, Simons and Mrs. Prada explored the concept of the uniform. It was hardly the first time either had done so, which is just one of the reasons why their pairing makes sense. This time, it was partly to reflect on life amid the pandemic, which also shaped how the collection itself was made. Simons had planned to join Mrs. Prada in Milan on April 1—an already brief production period that was further condensed by travel delays. Still, the pair made it work. In a conversation post-show, they even hinted at preferring doing things this way. Here, catch up on what else they discussed and everything else you should know about the collection.
None of the models had ever walked a runway show.
Simons has so many frequent muses that they constitute a whole subsection of models. But there was no sign of Mica Argañaraz, Kiki Willems, or Julia Nobis. The entire cast was made up of new faces making their runway debuts. Perhaps even more refreshing—especially after months of models struggling to find work—was the emphasis on their names, on display screens and in the soundtrack.
The Prada logo took center stage.
Prada's signature triangular logo was present from the moment the first model emerged. She was one of 10 models who wore a printed version across the top of her chest. Others had a classic metal version in the same place, or more subtly on the sides of their turtlenecks, recalling Simons's tenure at Calvin Klein. There were even Prada logo earrings. (And, of course, the classic nylon bags.)
Raf-isms were everywhere.
At this point in his career, Simons could fill a miniature dictionary with all the words he's peppered through his eponymous label's designs. (A portion of his fall 2018 menswear collection was memorably stamped with "DRUGS.") The words haphazardly placed throughout Prada's spring 2021 collection were a bit more tame, though perhaps even more nonsensical. One hoodie—yes, a Prada hoodie!—read "picture yourself: a triangle-shaped labyrinth, spinning round," inside a silhouette of the Prada logo. (The bottom of the hoodie, which read "rapture / suggestion," made a bit less sense.)
By blending his proclamations with Mrs. Prada's signature silhouettes, floral accents, and jolie-laide prints, Simons was also able to stay true to his love of graphic design. (Peter de Potter, a longtime Simons collaborator, was behind the artwork.) The designer's distressed sweaters made it in there, too, as circular cut-outs that also nodded to Prada's polka dots.
They stayed true to Miuccia's signatures, too.
The silhouettes, on the other hand, were classic Miuccia. Model after model emerged clutching the fronts of their outerwear, harking back to the 1920s, when women held the buttonless, often cocoon-like designs together with their hands. (The classic version also turned up during Simons's tenure at Jil Sander.) Together, the pair riffed on the concept; models grasped coats that actually did have buttons, and many of the collection's more abstracted shapes.
Mrs. Prada has been known to wear a clutch coat herself. After the show, it turned out that she was wearing another of the collection's key silhouettes: a sweater tucked into high-waisted, pleated skirt. Perhaps that was thanks to Simons: "How Miuccia dresses is very often a kind of uniform one way or another, and that was direct inspiration for me for the show," he later said.
There was a "front row."
The stylist Karla Welch played host to a viewing party of fellow "PradaPhiles," including the designer Marc Jacobs, the critic and curator Antwaun Sargent, and the actors Sarah Paulson, Ruth Negga, Mackenzie Davis, and Traces Ellis Ross.
Raf and Miuccia had a charming little chat.
The show was immediately followed by a 23-minute conversation between Simons and Mrs. Prada, who answered a few questions from their fans. Some were simple, like one of Simons's favorites: What do you drink in the morning to start your day? "I'm bad," the designer replied, explaining that he follows up on his morning coffee with Coke Zero—or "zehrrro," in Simons's parlance—throughout the rest of the day. (Mrs. Prada, on the other hand, sticks to her mother's advice of drinking hot water.) And to Simons, at least one was familiar; he's apparently been asking himself "What is the Prada-ness?" for 25 years or so, when he was just a fan.
"I've always seen it as a community that has a very specific attitude, intellect, aesthetic," Simons said. "The one thing that you can't really define is what it is, but you feel it is. It exists. It's present. It's clearly there. That's a very important thing for me. It's also what I like very much about fashion brands. I think most people know, from previous talks and interviews that I am very specific, and I like a very little amount of brands. That is what a brand needs to have for me to love it: the '–ness.'"
Miuccia gave a 10-year-old advice.
Mrs. Prada seemed most enthusiastic when a 10-year-old girl, who loves Prada and Miu Miu and wants to be a fashion designer, asked for her advice. "That is my moment to say study, study, study!," she responded immediately. "Learn. Watch movies. Watch art. Read literature. And learn that a piece of clothing serves the rule of making you live better. So it's for you, and it's for your life. It's not an abstract job. The result of my job is that people with my clothes probably feel a bit better, live a bit better. It has to be useful. And help define your personality, even if you want to change it—one day you want to be somebody, one day you want to be somebody else, depending on the occasion. So really think about this as an instrument for your life."
Related: An Illustrated Guide to Why Raf Simons x Prada Makes Sense