An Illustrated Guide to Why Raf Simons x Prada Makes Sense
Side by side, the designers' archives might have you seeing double.
---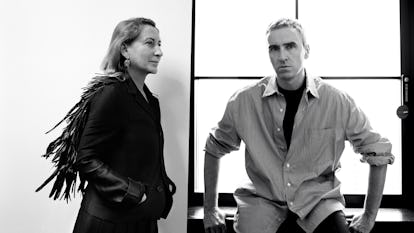 Courtesy of Prada
On Sunday morning, Raf Simons and Miuccia Prada announced that Raf would be joining Mrs. Prada as co–creative director of Prada, effectively sending fashion's head spinning. It's both ironic and telling that neither designer planned to get into fashion in the first place; Simons was an industrial designer, and Mrs. Prada used to be both a secretary of the Italian Communist Party and a mime. They share a no-nonsense, at times openly political, approach to fashion, which might be why they also share Frank Ocean as a fanboy. And they both talk so passionately about art that one might wonder what they're doing in fashion. "Maybe fashion should operate more like a museum, where you have a museum curator," Simons said to Mrs. Prada in a 2016 interview that foreshadowed their collaboration. Mrs. Prada, who opened her own museumlike institution in 2015, heartily agreed.
Rest assured: Art will figure prominently in the pair's future. As for what will be on the runway, well, that remains to be seen until September, when they roll out their first joint collection at Milan Fashion Week. For all of their similarities, Simons and Mrs. Prada don't often overlap on the superficial level of design. Thankfully, we won't be missing out on their distinctive styles completely; Simons will continue to adore youth culture at his namesake label, and Miuccia will continue to get whimsical at Miu Miu. But a closer look at Simons's tenure at Jil Sander, Christian Dior, and Calvin Klein proves that he and Mrs. Prada already have more in common than you may expect. Step back in time for a glimpse at the future, here.
Three years after he launched his namesake menswear brand, Simons used his fall 1998 collection to pay homage to Kraftwerk, one of his many beloved musical influences. The red button-ups and black ties became emblematic of Simons's skinny suits, which went on to define the late 1990s and early 2000s. It was hard not to notice, then, when a version of it turned up in Prada's menswear show in January, along with bare arms and quite a few Raf-like silhouettes.
Of the models who joined a teary Simons on the runway of his final Jil Sander show, several wore cable-knit sweaters emblazoned with an abstracted face. The designer toned down his love of graphic design while at the house, to around the level where Miuccia stands. (Suffice it to say she has not emblazoned her designs with words like "drugs" as Simons has.)
The two tones, the deep V's, the delicate floral motifs—need we say more?
It's hard to imagine the figures of wood nymphs popping up in a Prada collection these days, but, as she always does, Mrs. Prada made it work. Etched into chiffon, the end result bears an unexpected similarity to a number of couture looks from Christian Dior fall 2013, when Simons was delighting in his success at making fabric out of Sterling Ruby's paintings. (Note the shirtless sweater vest—more on those later.)
Another look from Dior couture fall 2013, and another Prada parallel—this time, five years later.
There might be just two people who could convince you to wear a bathing cap on land: Simons, who managed to make it work in couture, and Mrs. Prada, who's mastered them at both Prada and Miu Miu.
For Calvin Klein spring 2018, Simons crafted his very own American horror story, complete with blood red spatters and shredded bits of denim and American flags. (The latter were courtesy of Sterling Ruby.) It was par for the course for Simons, but not so much for Mrs. Prada, who mounted her own politically themed post-Trump show in Milan just two weeks later.
No one loves a bare bicep like Simons, who's been showing off his models' for decades and decades. Plenty of designers took a page out of his shirtless sweater vest book for men's fall 2020, though only one did so at the same time as hammering down the details of her own Simons partnership.
Related: Raf Simons on His Massive Art Collection, Beloved Dog, and Stuffed Animals