NEVER-ENDING FASHION WEEK
Raf Simons's Womenswear Debut Is Fit for a Cult
The models Simons enlisted for his label's first womenswear showing are looking to recruit.
---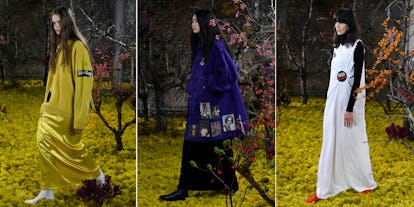 Courtesy of Raf Simons
The anticipation ahead of Raf Simons's spring 2021 presentation on Friday was almost as high as that of his Prada debut. It was more than a month ago that the Belgian designer announced that for the first time ever, it wouldn't be limited to menswear. And even though he's extensively produced womenswear, while at the helm of Calvin Klein, Jil Sander, and Dior, Rafaelites have been waiting with bated breath.
The theme may have been rebellion, but it wasn't revolutionary. For his label's 25th anniversary, Simons delivered 72 looks' worth of classic Raf. If you're familiar with his archives, you know exactly what that means: graphic tees, shirtless sweater vests, giant sweaters, and slogans along the lines of "DISORDER" and "DRUGS."
The collection was titled Teenage Dream, and partly inspired by Zabriskie Point, the 1970 film about counterculture and rebellion in the U.S. And while Simons has spent decades absorbed in youth culture, he's apparently never been more obsessed with it than at 52. The whole thing was so on-brand that between the spooky '70s vibes, middle parts, pins reading "JOIN US," and cloaked silhouettes, it felt like an induction ceremony for the newly official Cult of Raf.
In fact, some of the slogans throughout the collection even sounded like names of a cult. "Children of the Revolution" showed up again and again, as did "Midnight Flower Souls," particularly on the more '70s looks. Some models, like one in a Pucci-esque poncho, wore pins reading both.
Like so many others quarantined, Simons has clearly been spending time in front of the TV. The show's press release was simply a list of films that inspired him, spanning from Blow-Up (1966) to Annihilation (2018). While Hair and The Breakfast Club also got shoutouts, the clearest influence came from horror films like Nightmare on Elm Street and Scream. It's familiar territory for Simons; he once turned Jason Voorhees's hockey mask into a shoe. But this season, his timing couldn't have been better. The barren trees, eerie purple lighting, and spiderweb-like nets seemed to be a reminder that it's almost Halloween.
There were parallels to Simons's Prada debut, like logo-stamped turtlenecks, though that's to be expected: that spring 2021 collection was filled with hallmarks of both Simons and Miuccia Prada. But, almost like a work-life balance, there were also Raf-isms that likely wouldn't fly at the Italian house. The faces printed throughout the collection, like a '70s yearbook snapshot of a man who could have been Barry Gibb, were actually photos of the families of his team.
Related: Raf Simons on His New Textile Designs, Massive Art Collection, Beloved Dog, and Stuffed Animals