Rafael de Cárdenas: Inspiration Point
The architect explains how he gets his ideas
---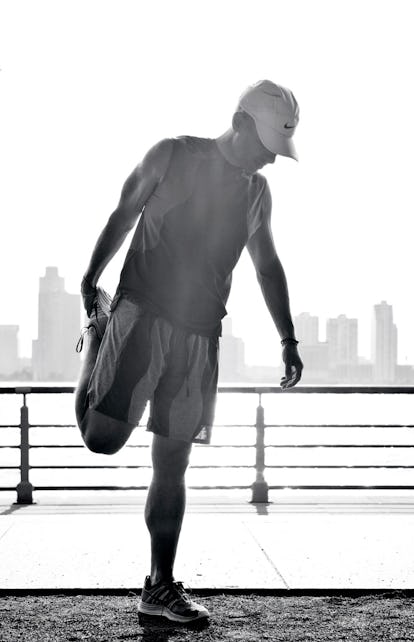 Rafael de Cárdenas, who opened his New York design firm Architecture at Large in 2006, has created commercial spaces for Nike, Baccarat, and HBO; decorated palatial homes in London, Paris and New York; launched his own furniture line; and collaborated with Rivieras on a characteristically colorful shoe collection. He comes up with most of his ideas while running.
How often do you run? At least every other day for 3-6 miles. But I do some sort of sprint or short burst every day.
What's your route? I get bored easily. Consequently, I've run every route possible from my apartment in Nolita. Usually, I head over to the West Side Highway, or I head towards the FDR Drive and then over the Williamsburg Bridge. Sometimes I run to the track on the FDR and do sprints there.
Do you listen to music? Usually Blond Ambition, or some form of nostalgic music from the '80s and '90s.
What are some ideas you've come up with while running? It varies greatly, but generally the problems I have at the moment will pop into my head and I talk/yell to myself until solutions begin to arise. It can be anything from large-scale business/bank solutions to old contacts I should re-approach to specific forms that then get incorporated into various projects. I'm figuring out a large space at the moment and how to subdivide it. I saw some fences while running by the beach in Miami and they made me think of screen-like walls.
What is it about running that helps you think? Once I'm in the comfort zone of running and not really focused on the efforts required, there's a trance-type effect. It's kind of like washing dishes.
What projects are currently on your mind? I'm very excited about the project in Paris that I mentioned above. It's one large room with no windows! We are also working on an exciting French-themed pop-up store that will be fit into eight Nordstroms around the country. It's an unprecedented project for the company, and obviously for us as well. Many of the design ideas came from a run around Place des Vosges.