Rafael de Cardenas's Miami
This week, the man behind Architecture at Large celebrated being named Designer of the Year by Maison & Objet by building a popsicle stand-cum-nightclub. Only in Miami, right?
---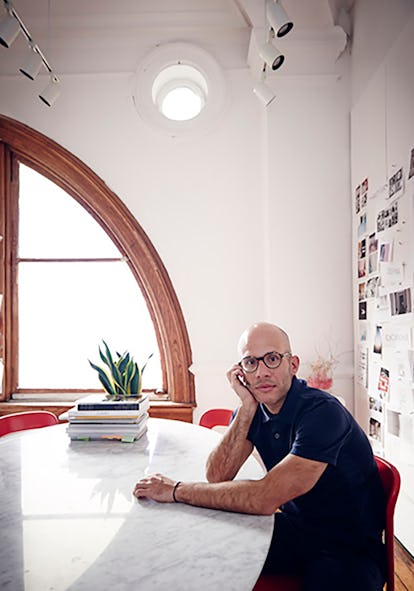 This week, Architecture at Large's Rafael de Cardenas was named Designer of the Year by Maison & Object Americas, the Paris design fair that touches down in Miami this week for the second year. In honor of the occasion, de Cardenas collaborated with PopLab, an adored local popsicle purveyor, to create Neon Jungle, a glitzed-out version of a popsicle stand that could easily be mistaken for a nightclub. It is Miami, after all. Here, de Cardenas shares his favorite local design haunts.
The Atlantis by Arquitectonica It's still one of my favorite buildings in the world. I knew it obviously from the opening titles to Miami Vice, but then also loved seeing it when I was a kid and visiting my grandparents. The red staircase and palm are still fresh! I also love the Pink House by the same architects, a super POMO, Miami-style house that you can see from a boat.
The Amertec Building I know it from my friend and local Miami native, Emmet Moore. It was designed by Chayo Frank in the 60's. It's a very unique building. Reminds me of Frederick Kiesler's endless house, which was never actually built. I'd love to get inside it … I think it is used as a warehouse?
1111 Lincoln road I really couldn't love this super light looking Herzog de Meuron building any more than I already do. It's a parking garage with only floor plates, no actual walls. It really is unlike anything else—a very elegant structure. Adam Lindemann held a group exhibition there a few years ago during Art Basel Miami Beach; all the work curated into the show was made with cars. It was a very exciting place to be for a party. It's also a huge treat to visit Alchemist while you're there.
Pao A restaurant at the Faena hotel complex. One of the most architecturally exciting projects going on anywhere in the world is the Faena complex. In the very heart is the only existing historical Art Deco building where Pao is located, tucked off to the side of the hotel lobby. It is a grand, dome-ceilinged space that has been retooled to somehow feel intimate. I spent Valentine's Day there, quite by chance, and sat at the bar with my valentine. I ordered whatever the bartender recommended and wasn't disappointed for a minute. I will definitely return this week!
Naoea Japanese sushi place on Brickell Key. A very understated spot, especially for Miami, the home of flash. I always just do omakase, and it really compares to some of my L.A. spots. It's also somewhat of a retreat in Miami, quiet and tucked away in Brickell Key. Rezzies are required so plan ahead!
Design District I love shopping in the Design District. Every imaginable shop is located in a small growing neighborhood of Miami's native cool. I particularly love Leong Leong's Parking Structure as well as Aranda-Lasch's building for Tom Ford's shop.
The Kampong in Coconut Grove A sort of botanical garden which was originally developed as a private winter home for David and Maria Fairchild in 1916. It has an Asian theme in design and plant choices. It's crazy that it exists in Miami. When you go, walk all the way to the end where a small peninsula juts into the bay. It looks out at a distant downtown Miami. We are lucky to have a project nearby, and I visit it regularly on our Miami trips.
Watch W's most popular videos here:
Photos: Rafael de Cardenas's Miami
Rafael de Cardenas. Photo by Andrew Boyle.