There's a New Law in Town
In case you missed them, here are the top style stories of the week.
---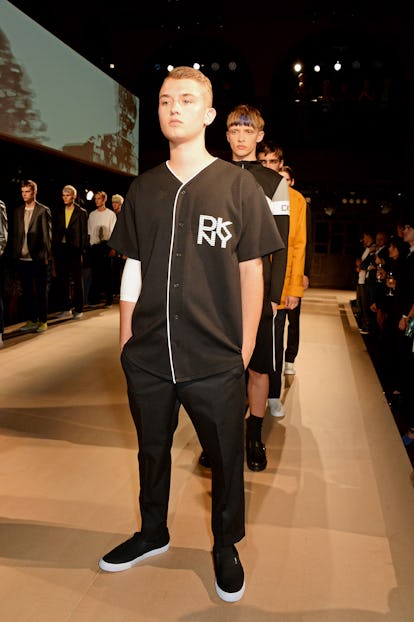 Beyoncé Strikes steamy pose, naturally, in new ad for her fragrance Heat: Wild Orchid.
Bundchen, Gisele The richest model in the world was named the new face of Stuart Weitzman. Because she was afraid Kate Moss was gaining on her.
Charney, Dov Suspended from his role at American Apparel, after countless appearances in this column due to his inappropriate behavior.
Crawford, Cindy Is about to add author to her resume, thanks to a new not-coffee-table-book-not-biography hybrid coming out in the fall of 2015.
Jenner, Kendall The half-Kardashian was named the new face of Givenchy. Fingers crossed she's taking a selfie in the campaign.
Law, Rafferty The son of Jude Law and Sadie Frost takes a turn as a model. Watch out, Kendall, there's new good-looking progeny on the block.
Lohan, Lindsay Declares that she will only get on a plane for a Chanel fashion show. Or Jeremy Scott, because, same difference?
Louis Vuitton Designed a monogramed case to carry the solid gold World Cup trophy. The real question is, does it come in red, white, and blue?
Lyons, Jenna Doesn't care what her employees wear to work—as long as it's J. Crew, of course.
Oscar de la Renta The fashion designer makes a surprising but successful bedfellow with Detroit-based watch company Shinola, with which he recently collaborated with on a collection of ultra girly, utilitarian watches.
Rubinger, Matthew The Hermès Birkin expert is now at the center of a lawsuit between his former employer, Heritage Auctions, and his current, Christie's International. It's a battle of the bosses. Bravo, are you listening?
Ruffalo, Mark Collaborates with Solange Azagury-Partridge on a collection of jewelry for men. Is there anything The Normal Heart actor can't do?
The Little Mermaid Is having a true fashion moment. Not only did the fashion designer Bobby Abley channel the Disney classic film for his London Men's Fashion Week Spring 2015 collection, but Sofia Coppola cast male model Andrej Pejic as Sister #4 in her adaptation of the film. Please say Kristen McMenamy scored the lead.
Theyskens, Olivier After four years at Theory and Theyskens' Theory, the designer is leaving the brand that Andrew Rosen built.
Williamson, Matthew Hired his mother Maureen to design his new babywear line. Did he not know that Theyskens was newly available?