Rafferty Law and Friends Celebrate Youth Culture with Collective Something to Hate On
Daniel Mould, Max Clarke, and Jude Law's son, Raff Law started Something to Hate On last year to showcase and celebrate London's youth and underground culture.
---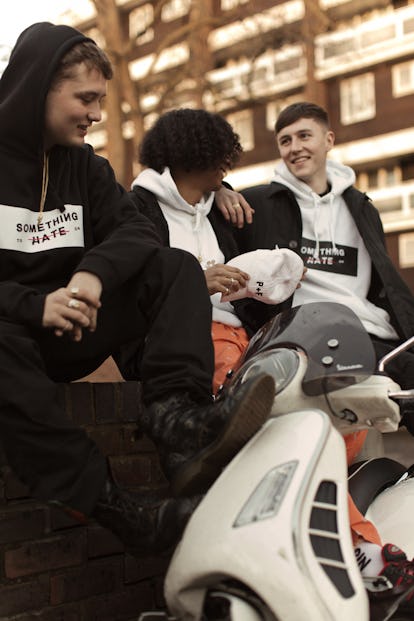 Youth culture in 2017 sometimes feels and looks like an amalgamation of every preceding generation, with young influencers taking pop cultural artifacts of the past and slapping them on a T-shirt for the 'gram. But if you want to see youth culture in action—or at least young people really wrestling with this idea of youth culture—look no further than London, where the movement was first born.
Collectives like Places + Faces, a music photography zine founded by Imran Ciesay and Solomon Boyede, and Sukeban, a magazine founded by Erika Bowes and Yuki Haze to empower and bring together "girl boss" young women, have popped up in the past few years and garnered attention far across the pond. They're a clear example of how, while there are downsides to social media, Instagram and Twitter have made connecting and sharing ideas the coolest thing you can do.
Something to Hate On, a creative collective founded late last year by the 20-year-olds Daniel Mould, Max Clarke, and Jude Law's son, Rafferty Law, is the latest group to pop up in London. "We wanted to start something that would attract other likeminded creatives and let us show off what we love," said Clarke. The name, he added, spawned precisely from youth culture's fraught relationship with social media. "You have to accept that anything positive and popular will now naturally attract hate; it's just part of life," he continued. "As a collective of talented artists who all get their fair share of hate or dislike, the name is really embracing that."
Things have been going well for the group, with "mad end results," like an installation during London Fashion Week, for example. They rented out a gallery space and invited their friends and collaborators to come cover the walls. For the opening, Law DJ'ed (he also DJ'ed in Los Angeles for Tommy Hilfiger's bash), and the invite on Instagram read: "Bring your own drinks."
So far, what's gained Something to Hate On the most attention is their creative merch, which features not only their logo but also niche youth references to pop culture like the children's show character Arthur. With Law's sister, Iris, sporting their gear on Instagram along with a handful of other young London influencers, they can't keep it re-stocked fast enough.
In your own words, what exactly is Something to Hate On? Something to Hate On is a creative platform to showcase and celebrate London's youth and underground culture. Obviously not just in London though—we've recently been in New York, Milan and Paris, but since we're all London boys we really want to show off our city and the mad talent we see everyday.
What's the story behind the name and how does it reflect the current times? There are a few stories behind the name. There's so much hate, especially in this generation, that's powered by social media platforms, likes, and comments. You have to accept that anything positive and popular will now naturally attract hate; it's just part of life. As a collective of talented artists who all get their fair share of hate or dislike, the name is really embracing that.
Things you really love:
Max: The honey fried chilli chicken from my spot The Electric Diner on Portobello Road.
Raff: Joy Division.
Who are some people who inspire you?
Max: Platforms like Boiler Room and Soulection inspire me; they throw sick events constantly showcasing new and up and coming artists. Hopefully we can emulate what these guys have done, obviously catering it more towards what the youth of London would enjoy.
Dan: [Maharishi founder and creative director] Hardy Blechman is up there.
Raff: One person that I find really inspirational is Damon Albarn. In my opinion every project he's taken on has found a new sound and direction but he's managed to keep his own personal signature all the way through and never really lets down. Gorillaz for example are now what has become an amazing collaboration of musicians from all over the world that Damon has sourced and that's in a way what we hope to achieve with Something to Hate On.
What does it mean to be young and creative in 2017? We think being a young creative in 2017 is about expression and coming up with ideas with your peer group that can relate our expression into something bigger, something with a purpose. It's important to be passionate about what you do and try to stay true to yourself in what you do. At the same time it's just important to be aware of what is going on around you, what are people interested in, what's hot.
What are your peers looking for when it comes to what they wear and the culture they consume? Being in the middle of what is known as a 'sell-out culture' there are a lot of our peers who have a 'Hypebeast' mentality—they look forward to the next limited drop from their favorite streetwear brand or their favorite fashion rapper's new project. This seems to be the be-all-end-all at the moment: Who can get the rarest piece of clothing from a shop just to stunt for their 'gram? On the flip side, these are the people we surround ourselves with. The people who get more excitement from witnessing originality and finding their own stylish pieces rather than following trends. But, saying that, we're definitely trying to cater to all of our peers. We're trying to create a movement with the intention to provide something for everyone.
Fashion pet peeves:
Dan: Seeing too much ankle. Unless you have some crazy fire ankles wear some proper socks!
Max: I hate people in the world who would be useless at dressing without designer brands. There's nothing specific that I dislike,I just get annoyed at fashion being regarded as style.
How does social media relate to your project? The majority of our content is on our Instagram as well as our website Apart from for selling clothing, Instagram is where it's at, really. It allows us easy access to broadcast upcoming drops, events and new artists. It also makes it easier for other artists to see what we're doing and approach us—sometimes the idea of having to send an email is daunting, especially for a young artist. It's actually been surprising how many artists and musicians have got in touch wanting to get involved, it takes doing something like this to really see the extent of the talent out there. We've also set up a Soundcloud which will be our music base—releasing our artist's new tracks and creating playlists of our shows and what we think is poppin'. Our approach is to keep our social media platforms interesting and relevant so like-minded people gravitate towards us, and we can promote people's work!
Plans for the future? 1 year? 5 years? Our plan is to keep on doing what we're doing with the people we love and keep pushing the movement. We've just come back from shooting our first pieces, the "Hate On" hoodie and "Seulement nous" long sleeve along with our Arthur hoodies. They both dropped last week and sold out in a couple days which was insane, but we're active making a load of new clothes. For the future, Raff has plans to make SHO into an independent music label and we're hoping to hold events and sell clothes all over the world. At the moment we're just busy planning our launch, choosing the installations, different art, and generally making sure it's a night no one will forget.
Behold: The Scions of London Fashion Week Fall 2017
Lottie Moss, half-sister of Kate Moss, attends the VERSUS show during the London Fashion Week

Darren Gerrish/Getty Images
Sofia Richie, daughter of Lionel Richie, attends Topshop's London Fashion Week show.

David M. Benett/Getty Images
Anais Gallagher, daughter of Noel Gallagher, attends the Mulberry show during the London Fashion Week.

Mike Marsland/Getty Images
Amelia Windsor, daughter of George Windsor, Earl of St Andrews, attends the Shrimps of London presentation during the London Fashion Week.

David M. Benett/Getty Images
Iris Law, daughter of Jude Law, attends the Burberry show during the London Fashion Week February 2017.

Mike Marsland/Getty Images
Tallulah Harlech, left, daughter of Amanda Harlech, and Joanna Kuchta attend the Ashley Williams show during the London Fashion Week.

David M. Benett/Getty Images
Sophia Stallone, daughter of Sylvester Stallone, attends Topshop's London Fashion Week show.

David M. Benett/Getty Images
Sistine Stallone, daughter of Sylvester Stallone, attends Topshop's London Fashion Week show.

David M. Benett/Getty Images
Rocco Ritchie, son of Madonna, and Kim Turnbull attend the VERSUS show during the London Fashion Week.

David M. Benett/Getty Images
Rafferty Law, son of Jude Law, attends as model Gigi Hadid launches her spring 2017 TommyXGigi capsule collection during the London Fashion Week.

Darren Gerrish/Getty Images
Molly Moorish, daughter of Liam Gallagher, attends Topshop's London Fashion Week show.

David M. Benett/Getty Images
Hermione Corfield, daughter of designer Emma Willis, attends the Christopher Kane show during the London Fashion Week.

Darren Gerrish/Getty Images
Cora Corre, granddaughter of Vivienne Westwood, attends the Mulberry show during the London Fashion Week.

Mike Marsland/Getty Images
Clara Paget, daughter of Charles Paget, 8th Marquess of Anglesey, attends Topshop's London Fashion Week show.

David M. Benett/Getty Images
Dylan Jagger Lee Would Prefer Not to Sleep Alone
Dylan Jagger Lee Would Prefer Not to Sleep Alone