Rag & Bone Madison Avenue Isn't Your Average Upper East Side Haunt
Downtown meets uptown at Rag & Bone's newest outpost, off Madison Ave.
---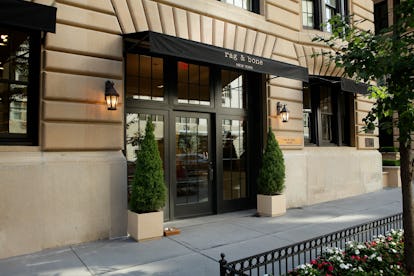 As its name would indicate, Rag & Bone has always been about a marriage of ideas — it was founded by a design duo, Marcus Wainwright and Nathan Bogle, in 2002, and when Bogle departed in 2005, David Neville came on board as partner. (Neville announced that he would be stepping down in mid-June, and it remains to be seen what a unified vision would look like at Rag & Bone.) So it's only fair that the quintessentially downtown brand, with its sporty separates and sparse, industrial décor, would find a way to adapt its DNA to the uptown crowd with a new Madison Avenue storefront, opened a week ago.
Tucked away just off Madison at 68th Street, the new Rag & Bone is bright and airy. Inside the double doors, a short set of steps leads up to the retail floor; on a recent weekday afternoon, several middle-aged clients perused the leather bombers and slinky dresses at the center of the room. Footwear and accessories occupy one corner, /Jean, the Rag & Bone denim and sportswear line, in another, and the rest of the floor is taken up by the main women's line, currently in the Pre-Fall 2016 season. (There's no menswear on the Upper East Side, though the brand recently decided to collapse its separate runway shows into one occasion.)
It's a little more plush, a slower, more leisurely experience, than the bustle of the brand's downtown locations — two in Soho, one in the Village — but "it's still Rag & Bone," one shop clerk told me.
Founder and CEO Wainwright echoed this — "We always wanted to have a Madison presence," he wrote in an email. (Rag & Bone previously attempted to make a home on the Upper East Side, but it shuttered in early 2013 after less than a year.) "But Rag & Bone's personality is more 'off-Madison,'" thus the 68th Street location.
"Last season was really about a return to old-school Rag & Bone," Wainwright explained. "English tailoring with a New York aesthetic and sport influence; our commitment to craftsmanship and ultimately making cool clothes that anyone can wear." It's those traits — streetwear meets Savile Row, New York meets London (Wainwright moved to New York from the U.K. in 2001) — that now allow Rag & Bone to find a perch on the Upper East Side.
The Mix Selections from Rag & Bone's footwear and accessories collections, Rag & Bone/Jean, and the main women's line can all be found.
Bestsellers The Alix bomber, a buttery leather-and-suede colorblocked jacket from Pre-Fall 2016, $1,295, Standard Issue sneakers, from $295, and perennial classics Newbury and Harrow boots, both $495.
Design Custom wood-inlay flooring in the entryway leads up to the main retail space, while the brass fixtures were made in the label's Brooklyn Fabrication Shop.
Prices Felt hats start at $195, while ready-to-wear ranges from items like the Nina slip dress, a black silk slip with contrasting fuchsia straps, $450, to outerwear like the aforementioned Alix bomber or the nylon Vine bomber, $650.
Location 11 E. 68th Street at Madison Avenue.
For those who prefer to shop from home Rag & Bone's full range is available at rag-bone.com.
Watch W's most popular videos here:
Photos: Rag & Bone Madison Avenue Isn't Your Average Upper East Side Haunt
Rag & Bone on 68th Street.
Inside the entry of Rag & Bone on 68th Street.
View of the main entry, fitting rooms in the back, of Rag & Bone on 68th Street.
Seating area at Rag & Bone on 68th Street.
Interior view, including the women's collection and /Jean, Rag & Bone on 68th Street.
Interior view of footwear and the seating area at Rag & Bone on 68th Street.