Five Thoughts On The "Rain on Me" Music Video
Who realized they looked so much alike?
---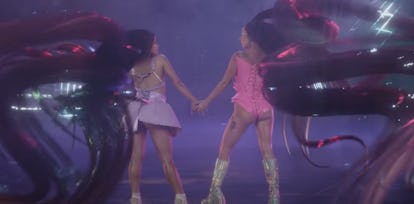 In the most important crossover between Italian-American pop stars since that time Madonna invited Gwen Stefani over to her house for dinner, Ariana Grande and Lady Gaga released their long-awaited duet, "Rain on Me," last night.
The song itself borrows heavily from a specifically French style of House music from the '90s (think Daft Punk, Modjo and Cassius). It also samples Gwen McCrae's funk classic "All This Love That I'm Giving" (which, in turn, was also sampled in Cassius's hit "Feelings For You"). But for the video, Gaga and Grande did not decide to call up French director Michele Gondry or place themselves in a Parisian disco.
Instead, they held a dance battle in Lady Gaga's own sovereign nation of Chromatica. Carrying over some the aesthetics established in the "Stupid Love" video, the singers engage in a post-apocalyptic clash while dressed in numerous latex and PVC numbers. We, of course, have a few thoughts.
Ariana Grande With Her Hair Down is An Entirely Different Person
At the 1:49 mark of this video, my brain started short circuiting. I thought they had edited Gaga's face onto Ariana's body and vice versa, or perhaps used CGI to merge the two singers into one super being. I kept waiting for some sort of "Morphin' Time" plot reveal, but then I realized there was no CGI involved. Just wigs.
Gaga was sporting Grande's trademark high pony, while Grande literally just had her hair down. Amazing that the sight of Grande with her hair in any other style than her usual updo still somehow does not compute with one's brain.
Was Mortal Kombat on the Mood Board?
Lady Gaga has previously confirmed that she's a secret gamer girl, and as Megan Thee Stallion has proven, there's never been a better time to embrace your love of video games.
The entire video gives us vibes of the long-running fighting game Mortal Kombat. Specifically, a the long held fan fantasy of the characters Queen Sindel and her daughter Kitana putting their differences aside and teaming up to defeat the Netherrealm.
Fan art of Gaga as various Mortal Kombat character has circulated online for years. Maybe she just saw it, though "Hmmmm, interesting…" and stuck it on her mood board.
Is This Choreography TikTok Bait?
The power of TikTok to send a song racing up the charts is well established by now, but pop artists have had some trouble harnessing the viral power of the video platform on their own. (A coordinated effort to turn Taylor Swift's "The Man" into a TikTok challenge didn't seem to amount to much). Gaga has an account, but it only has one video, uploaded in 2017 when the network was known as Musical.ly. Grande, for her part, seems generally annoyed by a lot of the content on the app.
In "Rain on Me," a lot of the choreography in the video seems like it would translate well to shortform TikTok videos. The singers mostly stay static in place and pull the kind of moves one could easily record themselves doing in their bedroom (Grande's moves for the beginners, Gaga's for the intermediate and advanced).
The Height Difference… The Shoe Choices…
Grande is famously an even five feet tall. Gaga, reportedly, stands just an inch taller. Yet, when ever they're in frame together, Gaga seems like she's at least half-a-head above Grande. We're chalking it up to Gaga's career-long commitment to platform boots.