Growing Up Judd
At 101 Spring Street, Donald Judd not only conceived some of his most important work— he also raised a family.
---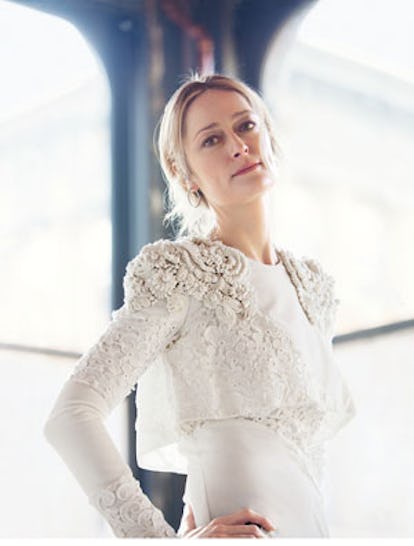 "Oh! I haven't seen this in a while," said Rainer Judd, pulling open a door on the second floor of 101 Spring Street to reveal the space behind a small built-in puppet theater that her father, Donald, made for her when she was a girl. He'd bought the building, in New York's SoHo, in 1968; it had been a textile factory, with 8,500 square feet of space over five floors and two basements. When Rainer was born two years later, she came home from the hospital to its huge, high-ceilinged rooms. On the day she and I visited last January, there were protective layers of paper on the floor, crates around the artworks, freshly painted iron railings leaning against the wall, ladders everywhere. After 11 years of planning and restoration, her childhood home will open to the public next month, as a monument, an art space, and an architectural gem.
The fifth floor of 101 Spring Street, where the family slept.
Donald Judd was an artist with exceptional foresight. He paid $68,000 for the building when SoHo was still a wasteland of faltering light industry—indeed, before it was known as SoHo. Within a decade, the neighborhood was the world's capital of art, and its converted cast-iron factories were as central to its character as parlors had been in Paris a half-century earlier. Until SoHo changed the rules, artists tended to live in one building and work in another; lofts dissolved the border between domestic and studio space and made both of them larger. That changed the kind of art that was made and, in turn, the places where it was shown; it encouraged works that wouldn't fit on a living room wall or in the modest rooms of a museum—instead they were exhibited in large, bright galleries, a kind of idealized version of the spaces where artists lived and worked. It's not an exaggeration to say that the SoHo loft helped create the conditions that made contemporary art possible. They didn't last long.
By the turn of this century, SoHo had become little more than a shopping district, and 101 Spring was in such disrepair that scaffolding was put up around it to catch falling chunks of the facade. Sic transit gloria New York. But perhaps Judd anticipated that, too: When he died, in 1994, he left a directive to establish a foundation dedicated to preserving his art and the buildings where he made and installed it, alongside the work of his friends and colleagues: 15 properties in Marfa, Texas; and 101 Spring. Rainer and her brother, Flavin, were appointed executors of their father's estate—guardians of his work and overseers of the plans he left unfulfilled. She was 23 at the time, and Flavin was 26.
Walking through the building with Rainer, almost two decades later, is a little like touring the Frick with someone who grew up there. As we wandered around the quiet floors, she explained how they found the right glass for the windows, how a foundry manufactured and restored more than 1,300 pieces of cast iron to repair the facade, how they put in humidity controls to protect the artworks. Then she said, "It still smells like Spring Street."
From top: Donald Judd at 101 Spring Street, 1975; the bedroom at 101 Spring, 1970.
Sense memory is like that, recapturing past experiences that elude the more conscious mind. Rainer was too young to register all the details of 101 Spring in its early days, but she does recall the benefits for the War Resisters League her father hosted; the hearthlike second floor of the building, with a cast-iron stove, a re­frigerator, a bathtub, and the TV; playing among plywood shipping crates; and a Claes Oldenburg sculpture of a "mean Mickey Mouse." The variety of those memories attests to the success of Judd's ambition: to create one ­coherent environment with three separate functions—home, studio, and exhibition space, each well defined but flowing into the next. He met visitors on the ground floor, for example. If he liked them, they were invited up to the second, with its well-stocked kitchen (Judd liked buying cooking equipment, but he didn't cook much; one of Rainer's more vivid memories is of running back and forth to Dean & DeLuca, where neighborhood artists had monthly tabs). The third floor was another studio; the fourth was a quieter living room for family and close friends; and the fifth was where the Judds all slept. But there was art everywhere—an Ad Reinhardt painting, a David Novros fresco, an Alvar Aalto table. And Rainer remembers the days when even a child could live with such things without worrying about how much they were worth, when Mom and Dad's bedroom had a floor-to-­ceiling Dan Flavin fluorescent-light sculpture, and a Marcel Duchamp shovel readymade leaned in a corner. "Nobody was saying, 'Hey, hey, hey! Don't touch that!' " she said. "It felt pretty casual. People say, 'You must have been such a controlled child.' But I don't remember it being that way at all."
As for Judd, Rainer has spent almost as much time with her father since he died as she did when he was alive. Her official duties call for her to work 20 hours a week on Judd Foundation matters, though in truth she usually works much more. She refers to him as Dad as often as she calls him Don, and she speaks of him respectfully and affectionately but without piety. "My dad was shy, soft, soft-spoken, very twinkly in the eyes," she told me. He was also, by many accounts, a somewhat prickly man—no more so, perhaps, than the average artist, but no less so, either. "He had a temper, so he would get very hurt; he would react as if he'd been betrayed," she concedes. "I don't know if he could forgive a grudge."
In 1976, Rainer's father and mother—Julie Finch, a choreographer and community activist—split up. As an opening gambit in a custody battle that took several years to settle, Donald spirited his children to Marfa, where he had set up a home and studio that would grow into a sprawling compound. For Rainer, it was idyllic, and she became, either by temperament or by default, a classic tomboy: "A large chunk of my childhood was spent sunburned in boy's clothes," she said, and indeed, a picture of her from the time shows a little girl with long blonde hair, wearing jeans and cowboy boots and a big straw hat, standing with her older brother on the edge of a dusty yard. Over the years, she and Donald fostered the kind of bond that forms between headstrong fathers and their daughters. "The more distance I have, the more I realize how rare it was and how close it was, and that is a testament to his courage in his opening up to his kid," she told me at the end of a long day's conversation. "For some reason, I don't know why, I feel like the father-daughter relationship is one of the most world-changing relationships. My dad was radical in his field, radical in the art he was making, radical in the way he lived, but in so many ways a conservative man. I just think it's fortunate for everybody that…" She trailed off, her eyes wet with tears.
Judd died quite suddenly, of lymphoma, in considerable debt and with his estate in disarray. He left each of his children a small sum of cash—"He just did not feel responsible for supporting us," Rainer said. Getting her father's estate sorted out has taken almost 20 years, but it hasn't taken up all of Rainer's life. She graduated from New York University's film school, had small parts in some Hollywood movies, made a few short films, and is in the midst of making a feature. She splits her time between Manhattan and Hudson, New York, where she writes and draws. In 2011 she had a show of photographs at a Hudson gallery. Earlier this year she directed a music video with the animator Benjamin Rowe for the Polyphonic Spree, and she's elbow-deep in an oral history of her father's life and work. It all can be a bit hard to keep track of, but she prefers it that way. When I asked her for help devising a one-line description of what she does, she smiled and mentioned a character in a Philip K. Dick novel who wears a "scramble suit" that grants him a changeling identity.
For now, though, the rebirth of 101 Spring is the main event, the culmination of many years' work and a great deal of money—$23 million, which was raised by auctioning off some of Judd's sculptures. The result is close to pristine—down to the sheets on the bed—altered only to accommodate the requirements of making a private home public: offices in the basement, various fire-safety measures. As we tromped up and down the stairs, Rainer grimaced every time we came across an exit sign, and she went on a quiet rant about the endless demands of New York City's building codes, which, among other things, required the removal of a turn-of-the-century spiral staircase.
Still, the place is something to behold, a revolution frozen in time. Many of the cast-iron buildings in SoHo are landmarked, but Judd's is the only one left not divided into stores or single-floor spaces. Its elaborate exterior ironwork is painted battleship gray, and the windows are so large that the building looks like an early attempt at the International Style. To see it standing nobly on the northeast corner of Mercer Street is almost startling—like coming across a period-perfect carriage house on Broadway. Inside, the carefully preserved living spaces host a collection that could anchor a very good museum of the art of Judd's time: works by Frank Stella, Claes Oldenburg, John Chamberlain, and others, as well as several by Judd himself.
It's strange to see how neatly it all fits together and hard to parse the experience. Sometimes it feels like a museum with a bedroom on top and sometimes like an apartment with a museum underneath. Rainer told me that when she and her brother were teenagers, "we just destroyed the floors. Never give teenagers really soft pine." But it makes sense, somehow, and when 101 Spring reopens, one corner of SoHo that has not made sense for some time will make sense again. As for Rainer, she makes sense, too—a considerable feat, when you think about it. Many people would find it a burden to devote a good part of their adult life to managing their father's affairs, his life's work, his reputation, his legacy. She seems to be energized by it, and she betrays not the slightest resentment or regret. We spent several days together, and we talked about many things, but the last thing she said to me was "I do what needs to get done. And I have a lot of respect for my own happiness."
Hair By Tamara Mcnaughton For Leonor Greyl; Makeup By Georgi Sandev for Nars Cosmetics; photography assistant: Ben Grieme; Fashion Assistant: Ryann Foulke; Donald Judd: ©Judd Foundation Archives; Fifth Floor: Annabelle D'huart ©Judd Foundation Archives. Clockwise, from top left: Julie Finch Archives/©Julie Finch/Courtesy Judd Foundation Archives; ©Paul Katz/Courtesy Judd Foundation Archives; M. Howard/©Julie Finch/Courtesy Judd Foundation Archives; ©Paul Katz/Courtesy Judd Foundation Archives; ©Judd Foundation Archives (2); Julie Finch Archives/©Julie Finch/Courtesy Judd Foundation Archives