Rainey Qualley Wants to Feel Ladylike But "Like a Cool Lady"
Andie Macdowell's singing, song-writing daughter Rainey Qualley shares her styles notes from New York Fashion Week.
---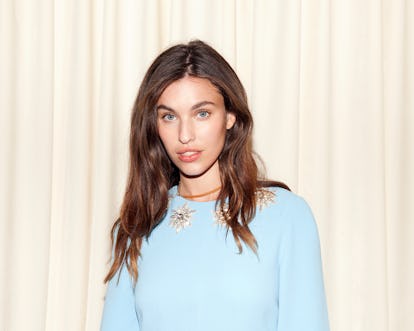 Olivia Locher. Produced by Biel Parklee.
Rainey Qualley, the singer-songwriter, actor and daughter of Andie MacDowell, first met Shane Gabier and Chris Peters, the designers behind Creatures of the Wind, at a dinner with Just One Eye in Los Angeles last month. She was so enamored that she decided to fly across the country to reunite with the duo, sitting front row at their spring show. "I think they just make really beautiful clothes," Qualley said.
She wore a baby blue dress with silver paillette detailing to the show, a look that made her feel "ladylike, but like a cool lady," she said. "I think my personal style is a little bit wacky. I like to be comfortable, but I also like wearing things that make me feel good. What's neat about clothes is that you can use your wardrobe to shine a light on different parts of your personality. So if you're feeling like a warrior ninja you can dress like that, or a princess…"
Though Creatures of the Wind is the only show Qualley is seeing while in New York, she's spent the trip writing and recording for her first EP, which she's producing under the artist name Rainsford. Her first single came out two months ago, with a second dropping on September 23rd. "So it's a music trip and a fashion trip," she said.
Here, she shares her daily uniform, favorite store, and her fall wardrobe must-haves.
Occupation: I make music and act.
Three words that describe your style: Lazy, Spice Girls, eclectic.
Daily uniform: Silky joggers, a vintage T, and platform sneakers.
Favorite stores: I mostly buy clothes at weird vintage shops on Etsy or at the Rose Bowl Flea Market.
Nighttime look: My real nighttime look is wearing my boyfriend's sweatshirts and going to bed. But on the rare occasion I do go out, I think it's fun to dress up. I like wearing little dresses and accessorizing in some silly way.
Style icons/inspirations: Cher from Clueless, my sister, and cute girls on the Internet.
Best recent discovery: I recently rediscovered playing piano which has been really fun. But in a fashion way, I found out I really like wearing boiler suits.
Style pet peeve: My style pet peeve is when shoes give me blisters.
Last purchase: I bought a vintage cheerleading skirt for five bucks from L Train Vintage when I was in New York.
Lusting after: A garage, this vintage sweater I found online that has a crazy-eyed bear embroidered on the front, and everything from Ader.
What's always in your bag: Throat Coat tea, my phone and wallet hopefully, eyebrow brush and lip tint.
Something you would never wear: I would never wear real fur.
Most prized possessions in your closet: Black Chanel bag, my dad's old engraved watch, and this light blue Creatures of the Wind dress from Resort 17.
Fashion week go-to: My fashion week go-to is to hope I get invited.
Fall wardrobe must-haves: I love big bright colored fluffy coats, cozy sweaters, and masculine boots.
Watch Rainey Qualley get a transformative "rocker" haircut: