Ralph Lauren Spring 2015: Backstage Beauty
Tom Peycheux and Guido Palau decode the beauty look at the Ralph Lauren Spring 2015 runway show.
---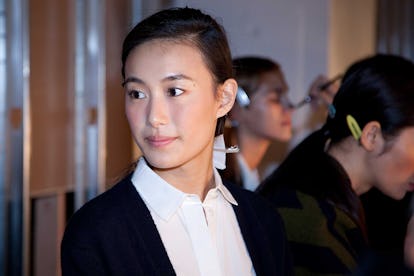 Photographer: Olivia Locher
Freshly washed hair and soft natural makeup are hallmarks of the beauty look at Ralph Lauren every season, but there were a few lovely twists this time around. Makeup artist Tom Pecheux brought shimmering light to eyes by patting on Ben Nye Lumiere Powder in Iced Gold with a concealer brush after coating lids with foundation to help make the powder stick. He applied the glistening dust to both the upper lash lines and the inner corners of the eyes—a genius trick to make models who had a 6 a.m. call time on the last day of New York Fashion Week appear more awake. Pecheux also concentrated bronzer and blush across the bridges of their noses and their inner cheeks, for a sun-kissed look. Hairstylist Guido Palau created deep side parts— a nod to Greta Garbo. Hair was left loose on some models while others sported low ponytails. Only one, Bruna Tenorio, walked the runway with a middle part. Why? "Ralph just thinks she looks best that way," Palau said.
Photos: Ralph Lauren Spring 2015: Backstage Beauty
Backstage at Ralph Lauren Spring 2015.

Photographer: Olivia Locher
Backstage at Ralph Lauren Spring 2015.

Photographer: Olivia Locher
Backstage at Ralph Lauren Spring 2015

Photographer: Olivia Locher
Backstage at Ralph Lauren Spring 2015.

Photographer: Olivia Locher