Ralph Lauren Is Starting to Look Like Designer-in-Chief
Plus, Tim Coppens talks Under Armour, Kanye West collaborator Cali Thornhill Dewitt puts on a solo show, and Alessandro Michele goes virtual.
---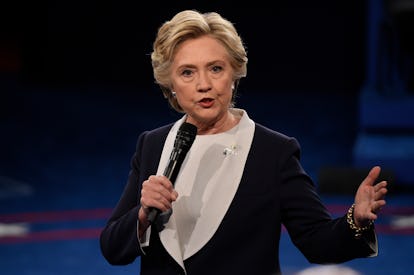 AFP/Getty Images
Coppens, Tim Creative director of Under Armour's new luxury line UAS. He never dreamed of working in a historic design house, anyways.
Dewitt, Cali Thornhill The artist behind Kanye West's Pablo tour merch is doing his own thing — this time, on American flags, rather than t-shirts.
Hadid, Gigi And: Hadid, Bella; Jenner, Kendall. The three next-gen supermodels are all going behind the camera. We wonder: Is Instagram to blame?
Lauren, Ralph Based on Sunday night's debate wardrobe, could designer Ralph Lauren be in charge of Hillary Clinton's commander-in-chief look?
Michele, Alessandro Recruited four artists — including GucciGhost Trouble Andrew — to create installations in Tokyo representing different facets of the brand. Each artist gets a room of his own; the whole thing will also be available via a virtual interactive exhibit because even Michele's Renaissance-inspired designs need a bit of futurism.
Moschino Jeremy Scott's pill-themed collection for Moschino has been pulled from Nordstrom stores. Except… That'll do about as much to solve the opioid crisis as Donald Trump's beloved wall.
Trump, Donald Speaking of Donald Trump, noted admirer and lover of women that he is, a new leak from the days of The Apprentice reveals the reality television mogul — and presidential candidate — commenting on (what else?) a female contestant's need for "dermatology."