Ralph Rucci: In His Own Fashion
The fashion press may not get Ralph Rucci's message, but his ladies love the designer's luxurious, elegant clothes.
---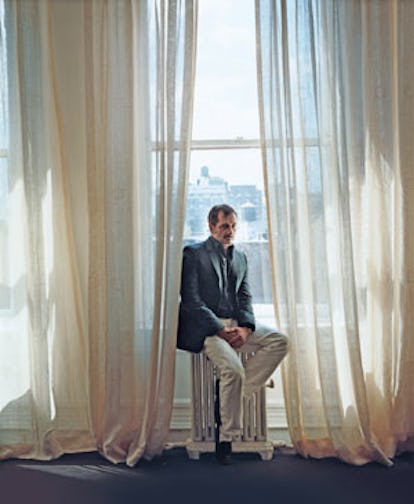 No matter how chicly appointed, a one-bedroom rental apartment hardly presents an expected lodging for the works of Cy Twombly and Francis Bacon. Yet Ralph Rucci's modestly proportioned Manhattan residence on the Upper East Side boasts the former's Five Greek Poets and a Philosopher suite, and Bacon's Cosmopolitan, hanging in the bathroom, no less. The generously terraced space also houses several sculptures the designer dates from single-digit centuries, including one with the initials B.C.
A look from one of Rucci's favorite collections, couture Fall 2002.
Ralph Rucci hones grand motifs to suit his circumstances at home and at his fashion house, its modest volume of $15 million achieved with clothing prices that can reach $32,000 for an off-the-rack coat, albeit one crafted to perfection from exquisite materials. He also offers made-to-measure, though no longer in a separate couture collection. Prices there exceed six figures at the drop of a hat.
No, scratch that. Nothing in Rucci's world occurs at the drop of a hat. His is one of deliberation in which each nuance is thought out, considered, reconsidered and obsessed over. Between each of several meetings for this article, he reviews the prior conversation to clarify or reilluminate his thoughts the next time around. He takes a similarly exacting approach to design, "going underground" to focus on nothing but the clothes, dissatisfied with every sketch until creative enlightenment strikes. After "weeks of the trash can overflowing—I hate it! Hate it! Hate it!—suddenly it happens," he says. "And that's when I feel most in touch with God, because
I'm literally receiving this information. My life is ignited…. I don't do this alone."
A look from couture Fall 2008.
Rucci sees fashion as both a spiritual and an artistic calling, complete with the inherent agony and ecstasy. Self-doubt has possessed him since childhood, which is why, after every show, while other designers might revel at their after-parties, he rushes home alone for repeated viewings of the video, scrutinizing it for mistakes.
He finds them, but he also identifies plenty worth celebrating. "There are moments when I say, 'Look at that, it's just extraordinary. And that's why I do what I do,'" he says. "Extraordinary." Rucci uses the word frequently, in regard to his work and the craftsmanship of his atelier. He's not wrong. His clothes are, in fact, extraordinary; their materials, execution, attention to detail, technical innovation—such treatments as hand-fluting, braiding, a "suspension" technique—superb. "It's the closest to couture that we carry," says Ann Stordahl, executive vice president of Neiman Marcus. Typically understated and starkly linear in their precise cuts, the collections offer moments of high drama in such pieces as diva-worthy furs and stately infanta gowns. But even these project the calibrated serenity that has become Rucci's hallmark, a mood that also defines his shows; after all, this is a guy who christened his collection Chado, after the Japanese tea ceremony.
Along with luxury, what most defines Rucci's work is its maturity. In a youth-obsessed industry existing within a youth-obsessed world, he not only designs for the sophisticated, rich adults who can afford to buy his clothes—others, including Karl Lagerfeld, Oscar de la Renta, even John Galliano, do that too—he dares not to feign otherwise. His models skew old, relatively speaking, and his styling bears zero markings of editorial girlishness. That alone puts Rucci in a fashion class by himself. It also makes him something of a curiosity—beloved, worshipped even, by a staunchly devoted clientele who have felt betrayed, dumped, by the girl-chasing designer set, women who seek in their clothes the highest quality and timeless chic.
Deeda Blair has been a serious haute couture client since the Fifties. She notes that, in his dedication to his craft and to properly serving the women he dresses, Rucci harks back to a more respectful era. "Ralph has a certain tranquillity that is missing from today's world," she says. "He is interested in being relevant to his clients' lives."
Retailers agree that Chado women care less for the vicissitudes of fashion than for collecting important investment pieces. "I think Ralph has actually improved the quality of life for people," says Linda Fargo, senior vice president of Bergdorf Goodman. "It's through his ability to materialize beauty. He knows what beauty brings to people's lives."
Such hyperbolic praise is not uncommon among his devotees. Yet Rucci is one frustrated designer. "Do I like the way [the fashion industry] has unfolded?" he asks. "No. I think it's become much more incestuous and driven by the idea of what is modern and what is young at the expense of disposing of our elders.… I don't care if that's the way of the world or not. It's wrong."
The relentless fascination with youth is hardly Rucci's only beef with the industry. He also takes umbrage at fashion's celebrity obsession, "the disaster" of the red carpet and, most grating to him, the bountiful editorial coverage given to some fashion that he considers "just dreadful," when his reviews are often tepid and his magazine credits nil. With the possible exception of Martin Margiela, who has elevated his nonverbal, e-mail-all-correspondence Garbo
routine to the level of high shtick, Rucci probably has the oddest relationship with the press of any serious designer in the world, a reality that both wounds and angers him.
The annoyance is mutual. The mention of Rucci's name to a fashion editor is as likely to elicit an irritated eye roll as a smile. Take, for example, the last two rounds of collections. Rucci closed both seasons in Paris, at the end of monthlong stretches, each packed with hundreds of shows, presenting at 8:30 Sunday evening after Nina Ricci, Louis Vuitton, Lanvin and Miu Miu. Plenty of senior magazine people from the U.S. opted to skip his shows and get the heck out of Dodge. Rucci, who maintains that he went to Paris to boost his international profile and took the slot given him, interpreted the skimpy attendance as a major slight borne of professional indifference and personal cruelty. (He
decided to return to New York for his spring 2009 show.) Editors viewed his time slot, and perhaps even his presence in Paris, as a display of ivory-tower arrogance.
So why the tension?
The truth is that fashion is not nearly as solicitous of the iconoclast as it purports to be. It is indeed a club, one with rules, favoritism and plenty of disdain if an unanointed type makes waves. Rucci is something of an outsider, torn between a longing for acceptance and a refusal to compromise, even on nonartistic matters.
Fashion videographer David Boatman developed a friendship with Rucci while shooting backstage at his shows for Style.com and IMG. He recently completed his first documentary, financed in part (but not approved for content) by the designer. Ralph Rucci: A Man and His House was picked up by the Sundance Channel and is scheduled to air September 22. "Ralph has taken it upon himself to judge his own work," Boatman says, adding that the designer's exacting standards are not necessarily those of the larger industry. "He believes that's the only [judgment] that he needs to adhere to. But there is a dichotomy there. He feels alienated…. I think he just wants more people to see his work and appreciate it as much as he appreciates it."
Certainly he doesn't court anyone via the party circuit. Vivian VanNatta, now the president of his company, met Rucci nearly 30 years ago at F.I.T. and has worked with him from the start. "He's not the big social playboy who wants to go out every night and do that whole have-your-picture-taken-by-Patrick-McMullan thing," she says. "He would rather have dinner with three or four people and have deep discussions than have 10 minutes of meaningless chatter."
Rucci and I first meet at his office on lower Broadway. The vast, pristine space, each rack and artful iron bench arranged just so, offers respite from the bustle of SoHo outside. Only Twombly, the designer's beloved English bulldog, breaks the zen calm, going nuts as one of his favorite people, Chado artistic director Samantha Storto, leaves the office. Behind the public showroom space, Rucci's office, outfitted with Billy Baldwin settees covered in brown ostrich, looks considerably more lived-in, with the desktop disheveled and three pairs of shoes tossed randomly on the floor. It's mid-July, by which time fashion houses typically know what credits they will have in the all-important September magazines. Rucci has had nothing called in. "I don't understand why my work is not covered," he says. "The September issues of fall fashion in America will be coming out, and we haven't received one call, not one. That really is devastating to me. The clothes aren't common."
Rucci's sensitivity may be particularly heightened these days. Long self-financed, he recently concluded that, in order to grow or even maintain its current operation, his business needs a significant infusion of cash. (Later in the summer he will lay off 18 people, trimming his staff to 61.) He sees a future of increased global presence (he currently sells in Russia and Korea) with freestanding boutiques, a home line, accessories, shoes, jewelry and men's wear. He already has a fragrance developed with Givaudan, which is looking for a major beauty company to take it on. But as for the typical addition of a secondary line, he maintains, "I don't have a talent for a more popular price." (He does, however, enjoy a successful gig with Vogue Patterns.) Regarding backing, he aims high, figuring that only a major luxury conglomerate will understand and have the patience for his approach.
Right now, Rucci wants to explore the possible reasons for his lack of press coverage. When told that perhaps an outside stylist, one of the majors, could deliver that elusive editorial It factor without changing the essence of his work, he seems at once open to the thought and disgusted that this is what fashion has come to. "The American industry, when I entered it, had much higher standards," he laments. "We had a building at 550 Seventh Avenue that was inhabited by some of the greatest names ever, and either they're dead or they closed."
That said, discuss some names, American or not, and Rucci is either tellingly mum at their mention (off the record on the who, he requests ex post facto) or effusive with praise. Rei Kawakubo and Lagerfeld are geniuses; Azzedine Alaïa, "the greatest technician and visionary working today." Ralph Lauren provides an "untouchable example of what's possible. I buy some of his suits," he notes, "and I'm shocked at what they're able to do at the ready-to-wear level." Rucci is similarly impressed with the "tailored perfection" of Tom Ford's clothes, but not by Ford's Madison Avenue store. (He'll buy at Bergdorf's, thank you.) "I went into that boutique once and some queen said to me, 'Sir, that jacket costs $7,000.' I said, 'How nice for you.' I walked out." And Calvin Klein's Francisco Costa, he offers, "pushes the idea of being modern forward" and is "a great representation of a male fashion designer, without the pretentious bravado so often associated with male designers."
Rucci found his calling while a student at Temple University in Philadelphia, when he happened upon a book with a pair of David Bailey photographs of a sculpturally turned-out bride and her black-clad attendant, both in Balenciaga. It was, he says, a "divine awakening…I began a research and a rigor in fashion."
That rigor included reading up on a former protégé of Balenciaga's then working in New York. Just like that, Rucci decided to leave Temple in his junior year and move to the city, where he would enroll in classes at F.I.T. and seek employment with Halston. With a bit of trickery—he convinced his sister to purchase a made-to-order outfit and went with her to the atelier, where he promptly charmed the vendeuse—he secured an interview. Rucci's teeth chattered as he awaited his audience. "Halston probably had a bad night. His mirrored sunglasses were on, he was smoking, he was in no mood," he remembers. "But he looked at my portfolio, and he asked me really cryptic questions, like"—in a reasonably good Halston impression—"'What does the pattern piece of this [outfit] look like?' I said, 'Ron Bladen's X' for the sculpture, and he loved that." Rucci secured an
internship with the head of the workroom, who himself had worked with Balenciaga, so "I was in church."
The rapture didn't last.
"The scene was so disturbing that I realized I had to get out," Rucci recalls. "I would rather respect this man for his work than experience the drama that was occurring in there…. The drugs created the impatience and the anger, and thus key people were abused tremendously, and then there was a level of tension that was inhuman and unnecessary. So I stayed for a short time and left…. Those that came too close to Halston never really survived."
Yet Rucci found ample positive takeaway. "One of the greatest visions I've ever seen was Halston throwing a bolt of chiffon on the floor, cutting right into it and creating a dress, but having the ability to have that vision in three dimensions…. He was a genius [with] a vision that changed American fashion."
Perhaps the grandeur of that vision, along with his stated influences—Twombly, Bacon, countless things Eastern, the High Renaissance—continues to inform Rucci's lofty view of what a life in fashion should be. Among those familiar with his clothes, his perfectionism is renowned. "He is a creator," says Joseph Boitano, group senior vice president of Saks Fifth Avenue. "In a lot of ways he's very reminiscent of the real old-world designers, like Balenciaga."
Certainly Rucci leads a one-man crusade to change—he would say elevate—American fashion. But unlike back in the day when Halston's self-caricature earned him celebrity status, the "genius" handle and a Love Boat gig (before it all ultimately destroyed him), only Rucci's retailers and clients seem interested. Yet, when we meet again two weeks later, he makes a point of telling me that he has rejected my suggestion of engaging a stylist. "If I'm consistently trying to bring this level higher, there's no logic to dumbing it," he explains. "Why on God's earth would I do something against what my heart feels about presentation?"
Still, he presses on the matter of editorial favor: How and why is it bestowed? Advertising? Schmoozing? Editors' favorites? Partially true on all counts. But there are other realities, including trends, a notion Rucci abhors. And just as fashion design is an artistic and emotional process, so too is creating a fashion story; the clothes must speak to the sittings editor on some level. A good runway stylist should, without compromising the designer's aesthetic, help couch his show in a manner that gets editorial stylists thinking about the possibilities of inclusion. Rucci might reconsider that route, unless he expects magazines to run all–Ralph Rucci fashion stories.
His eyes grow huge, his voice, didactic at the thought. They should, he declares, because of the superior nature of his work.
Every magazine, every season?
"Why not? What would be wrong with that?"
Though they seldom talk work, Rucci's friend and decorator Susan Gutfreund suggests that such single-mindedness is almost naive. "Ralph is a purist," she says. "When you really feel passion and enthusiasm for what you're doing, there's the assumption that the world understands you and appreciates it, and it's not necessarily true…. The fact is, he is an innately shy and sensitive man."
Joan Kaner championed Rucci so enthusiastically while fashion director of Neiman Marcus that he refers to her as "my Carmel Snow." Now retired, she remains a major supporter. What some might perceive as his arrogance Kaner views as a defense mechanism. "I think he's built a wall around himself because he's been so neglected and rejected by the magazines, by newspapers," she says. "It's amazing that someone of his talent has been so neglected."
Nevertheless, that wall doesn't keep Rucci from criticizing many now commonplace fashion practices such as that problematic celebrity placement. He rails against the barter of free clothes for the
promise of party-photo publicity—"I choose those who I want to be photographed," he declared to one woman who proffered such an exchange. When told that evening clothes are often borrowed, returned and put back on the loan circuit, as was the unfortunate case with the Nina Ricci gown Sarah Jessica Parker wore to the Sex and the City premiere, he responds, "Oh, that pleated thing."
Surety defines his opinions whether the topic is pleats or priests. Rucci explains that his "relationship with a higher God force became more developed through years of struggling." Raised Catholic, he occasionally still attends St. John the Martyr church near his apartment, but at off-peak hours rather than Sunday Mass: "It annoys me when people are there. I like to be alone." And crowd control is hardly the only issue he has with the religion of his upbringing. He attended a Jesuit school in Philadelphia, St. Joseph's Prep. "They are all closeted, and I was very open when I was in high school," he says. "It's not safe to be an open, young gay guy in a Jesuit high school, because you're threatening the very foundation of man."
Unsafe because one might be hit on by priests? "Well, I was," he says, almost casually. (Later he clarifies that though hit on, he was never molested: "I defended myself.") "But it's not safe because you're threatening all of these young boys' identities. They're going through identity crises, so if someone is saying, 'I'm comfortably gay,' then, oh, my God. But a spine was created, because I had to fight a lot of battles. [In the end] I was probably the most popular person because people wanted to know me by then."
Still, all is not forgiven. Rucci recently declined a profile request from the school magazine. "I would have to speak honestly and talk about homophobia," he notes. "I would ask, 'Do you have a gay organization yet?' and they probably don't." His concern for young gays is more than conversational, as manifested in his support for Live Out Loud, an organization that provides scholarships to college-bound gay, lesbian, bisexual and transgender students in need. Rucci maintains that people working in fashion have a false view of how homosexuality is perceived in the greater world. Which is not to say the gay community escapes his judgment. New York's annual Gay Pride parade "sets the gay movement back 50 years," he declares. "There's no reason why people have to walk along naked. There's no reason why men should have sex in the daylight on street corners in the Village. It's terrible. It just continues to promote prejudice and homophobia."
We meet for a final time in August. Rucci boasts of a renewed spirit, having come to terms with the company's recent layoffs as an essential response to the worsening economy. In case a previously made point has been missed, he proposes a conversational agenda: "I want to discuss something that I find destructive and uninspiring in our industry." He then launches into a passionate soliloquy."When we direct our attention almost exclusively to an audience that's under 35, 40, there is very little to accomplish.…What is all of this with the Olsen twins? These are the oracles of fashion?… Fashion magazines [should depict] qualities that have to do with being grown up, qualities of poise, of grace…. The industry must grasp that what is the future and what is modern is intelligence, spiritual awareness, and it's the appreciation of the elderly."
Then, lest the profundity grow tired, he takes it down a notch. "We spend," he says, sighing, "too much time listening to people who aren't even bright. They're just young."
Photo: Fall 2002, Giovanni Giannoni; Fall 2008, Karl Prouse/Catwalking/Getty Images