After Years of Making Music for Others, Raphael Futura Finds His Own Sound on Riviera
Futura, who has made music for G-Unit and Trey Songz, released his debut album today, featuring artists like NoMBe and Asher Roth.
---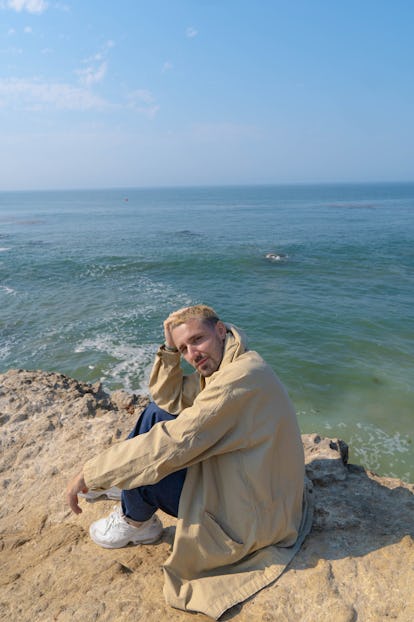 Raphael Futura photographed by Kalogenic.
"When I first got to New York I was just a fresh, French man with a dream," laughs Raphael Futura, the Paris-born record producer whose first album, Riviera, is out today. "I guess a lot has changed."
Fifteen years after his arrival from Europe, Futura, whose career has placed him in studios with the likes of Trey Songz and G-Unit, is more of a seasoned veteran than he is fresh meat. The producer—who is also, as of today, an artist in his own right—has no illusions about how brutal the music industry can be. "It's tempting to create the kind of music that you already know will sell," he says of his early years in the music industry in New York. "I enjoyed myself, but I never really managed to find my own sound."
It wasn't until Futura extricated himself from the commercial music scene and relocated to Brooklyn that he started to develop his own sonic universe—one that mixed house music and hip-hop with, as he says, "something lush." Before long, Futura opened a studio of his own, seeking out and developing niche artists that inspired him.
After steady success on the East Coast, Futura relocated to Los Angeles where he embedded himself in the electronic scene and continued developing his distinctive sound. But after a particularly dark phase, navigating legal entanglements that caused him to lose the rights to some of his work, it was time to take stock. "Even after ten years in the U.S., I still thought of Europe as home. I realized I was drifting between worlds."
Futura found himself reeling from a sense of cultural vertigo, unsure whether to commit to the life he'd built in the States or the one he'd always imagined for himself back home. He immersed himself in the sounds of his childhood— from Brigitte Bardot to Louis Chedid—to reset his professional and personal compass, and began spending more time near the ocean. "One morning I was sitting on my patio admiring the bougainvillea, and it felt like I was transported back to my dad's house in Sardinia," he recalls. The fluorescent papery blossoms, shimmering heat, and rocky Pacific coastline shook loose Futura's sunbaked memories of a childhood spent thousands of miles away on the Mediterranean. "A part of me that had been dormant for a long time jumped alive all of a sudden," he says. "I decided to bring Mediterranean sounds to the California coast."
Riviera is the brainchild of that epiphany—and a year's worth of writing and recording. Transitioning from the soundboard to the microphone is a considerable challenge, but Futura is no stranger to spells of strong, course-altering conviction: he spent his adolescence preparing to enter a conservatory as a classically trained pianist before shifting gears to audio production. "I was about to sign my life over to the piano," he says. "But then I discovered hip-hop and electronic music, and became obsessed with sampling and mixing." Despite spending a significant portion of his childhood performing, Futura held measured expectations on the eve of Riviera's release: "I'm not expecting people to say, 'Wow, what a singer,'" he says with a laugh. "It's not that I'm pessimistic—I'm just realistic. This is my first project, so I want to come to it as cleanly and humbly as possible."
Riviera reflects the same pragmatic confidence that characterizes Futura himself. This sonic homecoming—a languid homage to sun-crisped skin and salty air that unfurls over ten tracks—deftly blends sleek French funk with bouncy American bass. The album was recorded before lockdown, giving Futura the chance to collaborate with artists like NoMBe and Asher Roth before the industry shuddered to a halt.
Despite the personal nature of the project, Futura doesn't dominate on Riviera; he dissolves into the background on tracks like "Baia," in which a friend bashfully updates him on her life in a purred voicemail set against Bossa Nova instrumentals. All the same, Futura displays an ease in the spotlight on songs like "La Plage," an Helado Negro-inflected love letter to the seaside crooned in raspy French.
With his artistic debut out for the world at last, Futura has no intention of relaxing just yet. More French funk is in the works, and an upcoming project with Nacional Records blends Latin rap with a dancehall thrum. "Whatever I do next," shrugs Futura, "I know it'll be feel-good music. What could be better than that?"
Related: Arlo Parks's Music Captures the Angst and Agony of Growing Up