Joey Bada$$, Rapper and "Mr. Robot" Star, Goes to the Theater For Tupac
Plus he hits up the Museum of Sex for "boobs," and more from his culture diet, here.
---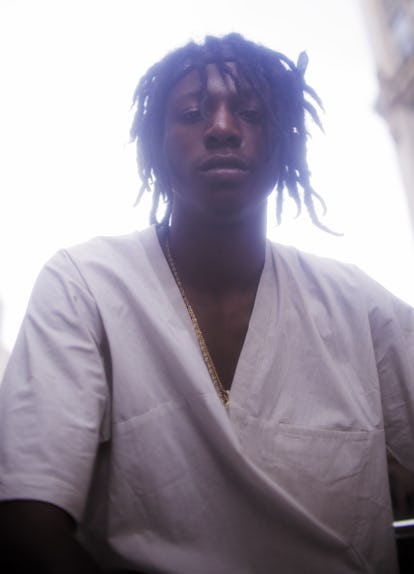 Photo by Dee Frosted.
Joey Bada$$'s chatty character on "Mr. Robot" might be obsessed with "Seinfeld," but off-screen, the 21-year old doesn't have too much time to watch TV: He's first and foremost a rapper, something he just broadcast around New York City with a mobile merch shop and concert atop a flashy double-decker tour bus (which in turn was decked out with flat-screen TVs playing his new music video, "Devastated.") Find out more about what he's been up to with his culture diet, here.
First thing you read in the morning: My emails. Books on your bedside table right now: Conversations with God by Neal Donald Walsch and The Philosophy and Opinions of Marcus Garvey. The TV show keeping you up at night: "Mr. Robot."
Last movie you saw in theaters: Straight Outta Compton. Saw it with my whole squad.
Last thing you saw at the theater: "Holler If Ya Hear Me," which was inspired by Tupac, on Broadway. The performances were amazing. Last piece of art you bought: ScHoolboy Q's "Blank Face LP." It's outstanding. Last museum exhibition that you loved: Probably the Museum of Sex in New York City. I was just there for the boobs.
Release you're most eagerly anticipating: This video game Mafia III. Last song you had on repeat: One of my own that I can't tell you. But one I can tell you is "JoHn Muir" by ScHoolboy Q. Last concert you saw live: BJ the Chicago Kid.
Actor inspirations: Tupac, Will Smith, and Denzel Washington. How you get your news: Social media. Favorite Instagram and Twitter accounts to follow: None. People follow me. Last thing you do before you go to bed: Smoke a spliff.
Watch W's most popular videos here: