D.R.A.M. Is Already Everyone's Favorite Collaborator, From Chance the Rapper to Lil Yachty to Erykah Badu
And with his debut album Big Baby D.R.A.M. out on Friday, the singer-rapper arrives as a solo artist to be reckoned with.
---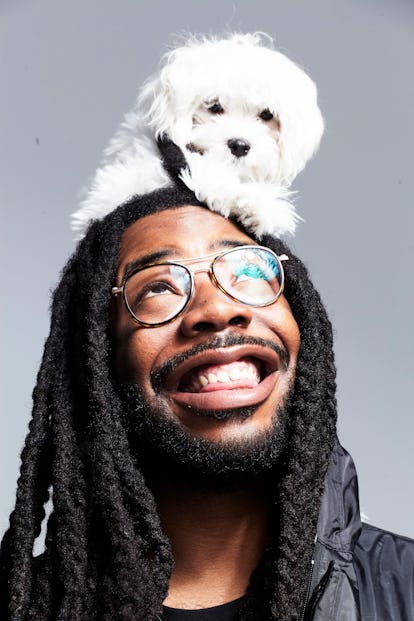 Earlier this month, while fresh off a viral performance with Chance the Rapper and Ty Dolla $ign on "The Tonight Show Starring Jimmy Fallon," the singer-rapper D.R.A.M. took to Instagram to announce the release of his highly-anticipated debut album, Big Baby D.R.A.M., out Friday. He also unveiled the cover art that featured a zoomed-in image of his already oversize smile and adorable goldendoodle, Idnit. "It's been a long time coming" said the 28-year-old artist this week. With a series of hits stemming from his first single "Cha-Cha," the talented artist born Shelley Marshaun Massenburg-Smith, who hails from the same part of Virginia as trailblazers like The Neptunes, Missy Elliot, Timberland and Clipse has made a name for himself while creating a sound all his own.
The album features his twice-platinum hit single "Broccoli," featuring Lil Yachty, that currently sits atop Billboard's Hot Rap Song Charts, not to mention collaborations with the likes of Erykah Badu and Young Thug. As always, D.R.A.M. is not one to pigeonhole himself into one genre, as the album seamlessly flows between among hip hop, EDM, neo-soul and rock and roll. With prominent early musical influences such as P Funk, D.R.A.M.'s soulful sound originates from his church upbringing. "My beliefs are still deeply rooted in into 'We have one Lord and one God,'" he said.
Congratulations. How does it feel now that your first album is finally coming out? It feels incredible. I've been harboring this for all of my life. It's been a year since I've dropped a body of work. so it's many, many types of things. It's also my debut sonically for so much of the world that doesn't know about #1 Epic Summer EP, Gahdamn! EP or who just heard "Broccoli" yesterday. It's a very nice pocket of time that we're in, for me to be able to get the music out to the fans that have been with me since day one. And to provide a body of work that will have lasting impressions for the fans that just came about.
What's the story behind that album cover? It's crazy because it's supposed to be a play off of Cam'ron's Come Home With Me album cover, where he's holding his baby and it's a full frame shot. The way Idnit grabs onto my back, he uses his paws like arms and hands — it's weird, like a baby. We initially were trying to have a full frame picture of that image. When the photographer came back with the options, one of them was zoomed in and we were like, "Oh my God, this is the shit." It was unanimous.
Your performance with Chance the Rapper of his song "Blessings" on "Jimmy Fallon" went viral. Tell me about that experience. Anything that Chance does is lit. I definitely came from the church. My beliefs are still deeply rooted in "We have one Lord and one God." It wasn't a reach or anything in regards to me because Chance and my beliefs fall into the same line somewhere.
What was your recording process for Big Baby D.R.A.M.? I was mostly in L.A. Certain things were on the fly and a couple of records were old. "Sweet Virginia Breeze," the oldest record, was conceived in the beginning of 2013 and I hadn't heard it in three years. I had a falling out with the guy that produced the record. My cousin stayed in decent contact with him and when I went to Virginia to visit he stopped by his crib and I asked him if he had that song. He didn't say anything and just turned around and went back to his computer. Five seconds later he pulled it up. It made me drop Jordan tears. It was almost like I prophesied what's going on right now three years ago, when I didn't have two nickels to rub together. It's like so lit! And it fit perfectly with the project.
Why Big Baby D.R.A.M. [Does Real Ass Music] as your artist name? My name before that was Drama J. When I really started to take shit seriously I couldn't go on with a name like that. It didn't show what my music reflected. Everybody calls me "Dram" anyway and I thought that it could be an acronym. It took me like 15 minutes to compile it all together back in 2013. The "big baby" part is self-proclaimed almost as a way to get away with murder — cut lines at the airport, cut lines at the bar and to say some fresh shit.
Who are your musical influences? I have many, but my main influences are the P Funk wave: George Clinton, Bootsy Collins, and Garry Shider, rest in peace. Their influences and their sound was so vast. Their whole [starts singing] "who says a funk can't play rock." It's so much all into one entity. It worked, it was never forced, it all just flowed. They could make a ridiculous song that talks about doo doo and piss to some real sensual and sexy shit and make it all believable. Once you embody life in your art form any aspect of it can be deemed believable.
How has growing up in Virginia influenced your music? First of all, to have the very few influences that we do have and gain so much is incredible. Artists such as Pharrell, Timbaland, Missy Elliott and the Clipse all came from out of that area code 757 and excelled. To have them as influences showed me that the sky was the limit. Just knowing that gave me an extra "oomph" to pursue my music. Now when I say I'm from Virginia I say it with my chest. I feel like it's blessing to be from there, so I can continue that legacy.
How did your song "Wi-Fi" with Erykah Badu come about? So me and Queen got to talking through Carl Chery, over at Apple music. She and I have a real deep connection when it comes to music and stuff like that. So we were finally able to link up in person and work on stuff. "Wi-Fi" is the introduction for what's to come between Badu and me. It's just an intro to what that world even sounds like — it's not the last of it. It was cool working with her and it never really put extra pressure on shit. So the fact that I was so easygoing and she was too allowed us to just vibe. We were just comfortable with one another with no extra bullshit getting in the way of what was really at hand, which was to make some beautiful music.
It seems like there are a few tracks reminiscent of "love songs" on the album. Is there anyone in particular that came to mind when you were writing? I just channeled different moments of my life. I was in a real love from the end of 2011 to 2013. It was to the point that my mother and her are still cool even though I haven't dealt with her intimately in over three years. There's still a strong love there that I can tap into at any point and time for instant inspiration. I also had a little situation-ship going on over a year ago that I think about for inspiration, too. Just random little moments that I can harness and create another moment that can stand the test of time. So it doesn't mean it's exactly one person that inspires me because a lot of it is infatuation music. And that's why you said reminiscent of love songs because infatuation is reminiscent of love, but it's not all the way that.
A lot of artists in the industry are using their musical platforms to promote political awareness and encourage fans to practice their right to vote for the coming election. What are your thoughts on using art forms to influence political change? I feel like it's good if they really want to see change, and want people to go out and voice their opinions. But if it's being done for attention gains and with a personal agenda then it becomes, "Agghhh". That's why I don't really like to get into politics. Nobody wants it thrown down their throats. Don't throw your rhetoric on me. We would be surprised at some of the religious and spiritual things that our greatest influences in the name of humanity have. It's because they're not forcing it down anyone's throat. Some things just have to be made personal, which is why they say sometimes in the work place never talk about religion or politics.