Rare Prince and Versace Tape Breaks Cassette Sales Record
A rare cassette tape of Prince's special soundtrack for a 1995 Versace show has sold for over $4,000.
---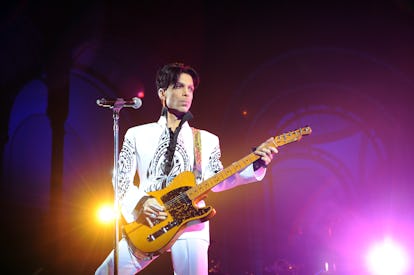 AFP/Getty Images
At the Versace menswear presentation in June, Donatella Versace paid tribute to her late friend Prince by soundtracking the show with rare and unreleased songs he had sent her over the years.
Prince had several admirers in the fashion industry, but rarely paid too much heed to the style world. Unless, of course, it was for Versace. For years one of the few front rows he could be found at was that of Versace. A connection that began with Prince and Gianni, continued on with Donatella, and as she told Billboard over the summer, Prince would always send her unreleased songs, hence the more recent runway tribute.
"Prince was always writing and recording, even if it was just a late-night jam at Paisley Park," she said. "He had been sending me songs for years — it was his way of communicating. Just hearing his voice again makes me smile."
It wasn't, however, the first time that unreleased Prince songs made their debut during a Versace fashion show. Back in 1995, when Prince was recording music using an unpronounceable symbol as his name and Gianni Versace himself was still alive, Prince put together a special selection of previously unreleased material and remixes. Dubbed The Versace Experience (Prelude 2 Gold), it soundtracked the runway, and a special cassette tape of the material was given out to attendees of the show.
Which means that the physical edition of the tape is now increasingly rare. So rare, in fact, that a copy of the tape is now one of the most expensive cassette tapes ever sold. According to MixMag, a copy was sold on music fiend market site Discogs.org for $4,087 back in August. That more than doubled the price of the previous most expensive tape ever sold on the site, and that was for a box set of material from the band Throbbing Gristle (a bit of fashion trivia: Throbbing Gristle's Genesis P-Orridge is one of the faces of Marc Jacob's latest campaign).
The cassette tape features previews of songs that would appear on Prince's The Gold Experience album and other projects, but many of them wound up appearing in different cuts and formats. Which means that the Versace versions of those songs can only be found on that cassette tape, in an official capacity at least. Prince also specially curated the mix. According to fansite The Prince Vault, Prince intended to "make listening to the cassette a complete listening experience."
The nearly 33-minute tape includes 15 tracks, including two exclusive remixes of "Pussy Control," tracks from Prince bands New Power Generation and Madhouse, and, apparently, Prince himself saying the words "Versace" or "Versace experience" over some of the tracks.
Not only are there no other copies now available on Discogs, but it appears that no other copy has ever been sold on the site before.
If you happen to be someone who was once glamorous enough to score invites to Versace shows back in the '90s, but now are in need of a bit of extra scratch, well, you might want to check your memories box. There might be $4,000 worth of cassette tape hidden somewhere in there.
Watch celebrities reenact their favorite Prince songs: