Raymond Pettibon at the New Museum: An Expansive Exhibition for One of Our Most Endlessly Prolific Artists
"Raymond Pettibon: A Pen of All Work" opens at the New Museum in New York.
---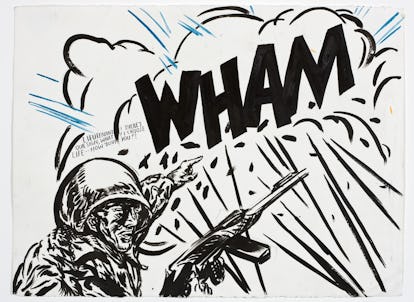 Courtesy of the artist and Regen Projects, Los Angeles
Raymond Pettibon is relentless. For nearly 40 years, the 59-year-old artist, long associated with the Southern California hardcore punk scene and now based in New York, has presented dark, comic visions of the American id in a proliferation of ink drawings. Lurking amid the works are murderous hippies, beefy baseball players, and gallant surfers—not to mention divisive figures like J. Edgar Hoover and Osama bin Laden. Phrases cribbed from Henry James and William Blake commingle with Pettibon's own words, creating an effect that is polyphonic, alluring, and unhinged.
"Raymond Pettibon: A Pen of All Work," his largest exhibition to date (February 8 through April 16), at the New Museum, in New York, examines his literary inclinations in early zines, drawings, and the scripts for the scrappy videos he would begin making in the late 1980s. "We lost count!" Massimiliano Gioni, the museum's artistic director, jokes when asked how many works will be in the show he co-curated with Gary Carrion-Murayari. Among the 700 drawings—selected from some 5,000—are ones Pettibon made as an 8-year-old child; texts that he had cut from books and saved for later use will also be shown for the first time.
"There's this idea of him as a guy who just sits down and cranks out these drawings, like an improvising punk rocker," Gioni says. "But instead, his method is careful."
Inside Raymond Pettibon's Major Exhibition at the New Museum
Raymond Pettibon, "No Title (James Joyce Ulysses)," 1995.

Courtesy of David Zwirner, New York
Raymond Pettibon, "No Title (Lieutenant! There's our)," 2008.

Courtesy of the artist and Regen Projects, Los Angeles
Raymond Pettibon, "No Title (The paper cut…)," 2004.

Courtesy of David Zwirner, New York
Raymond Pettibon, "Captive Chains," 1978.

Courtesy of David Zwirner, New York
Raymond Pettibon, "No Title (Good prose is…)," 2013.

Courtesy of David Zwirner, New York
Raymond Pettibon, "Captive Chains," 1978.

Courtesy of David Zwirner, New York
Raymond Pettibon, "No Title (Do you really)," 2006.

Courtesy of Sadie Coles HQ, London
Raymond Pettibon, "No Title (Jesus)," 1979.

Courtesy of David Zwirner, New York
Raymond Pettibon, "No Title (Language most shewes…)," 2000.

Courtesy of Hauser & Wirth
Raymond Pettibon, "No Title (Rebellion… Rebellion against…)," 1983.

Courtesy of David Zwirner, New York
Raymond Pettibon, "No Title [Baby blanket toss]," 1981.

Courtesy of David Zwirner, New York
Raymond Pettibon, "No Title (The war, now…)," 2008.

Courtesy of David Zwirner, New York
Raymond Pettibon, "No Title (Easier to change…)," 1984.

Courtesy of David Zwirner, New York
Raymond Pettibon, "No Title (To make him…)," 2004.

Courtesy of the artist and Regen Projects, Los Angeles
Raymond Pettibon, "No Title (My purpose in life is to do this)," 1987.

Robert Berman Gallery, Santa Monica
Raymond Pettibon, "No Title (Many times she…)," ca. 1960s/2000s.

Courtesy of David Zwirner, New York
Raymond Pettibon, "No title (This feeling is)," 2011.

Courtesy of the artist and Regen Projects, Los Angeles
Raymond Pettibon, "No Title (They are innocent…)," ca. 1960s/2000s.

Courtesy of David Zwirner, New York