Read & Resist: W's Daily Briefing for June 18
From the Shake Shack and McMuffin incidents to the flawed arguments against defunding the police, here are the stories not to miss.
---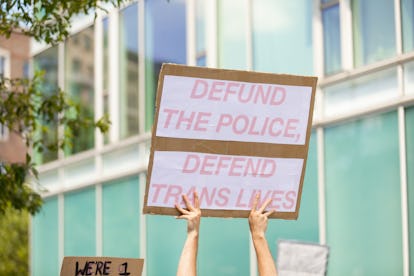 Serichai Traipoom
Back in the day, W started off the morning with a quick round-up of links to that day's fashion- and culture-related news. Times have changed; in the weeks since a white police officer named Derek Chauvin killed an unarmed Black man named George Floyd, protests have erupted across the country. Now, more than ever, it's important to stay up to date, which is why we're reviving "Chic in Review" as the slightly more radical "Read & Resist." Here are the stories, videos, and tweets we're hoping you don't miss this Thursday:
Here's why people won't—and shouldn't—stop talking about Oluwatoyin Salau, the late 19-year-old Black Lives Matter activist who went missing after tweeting about her sexual assault in Tallahassee.
"The notion that abolishing the police will have negative repercussions for women radically misunderstands both American policing and sexual violence," Moira Donegan writes. "The fact is that the police never investigate most sexual violence, because most sexual violence goes unreported." Among the most oft-cited reasons: distrust and fear of the police. Those who do report sexual assaults often encounter indifference and incompetence—like an officer who admitted "I have to Google stuff like 'labia majora'" in a 2018 study of Austin's police.
Jeffrey Young refutes another common argument—"Well, who are you going to call if someone burgles your home or attacks you?"—against defunding the police.
First there was the catastrophic saga of the cops falsely accusing Shake Shack of poisoning. Then there was the video of a sheriff's deputy crying over the delay in her McMuffin order. Both rare, extremely welcome moments of levity, but they also get at something deeper about the attitudes of American police.
Thanks to the Trump administration, the upside-down red triangle—a symbol Nazis used to mark prisoners of their concentration camps—is making a comeback.
The police media ecosystem is vast, and rampant with wild misinformation and bigotry.
It's becoming increasingly impossible to believe that authorities assumed suicide was the cause of death of Robert Fuller, a Black 24-year-old found hanging from a tree near City Hall in Palmdale, California.
The Pyer Moss designer—who faced death threats after dedicating his label's 2015 show to police brutality—explains the vital, urgent need to abolish the police.
Newsreel
Food for Thought