Read & Resist: W's Daily Briefing for June 12
From protesters taking Confederate statues into their own hands to Trump's grotesquely significant Tulsa rally, here's what to read to stay informed today.
---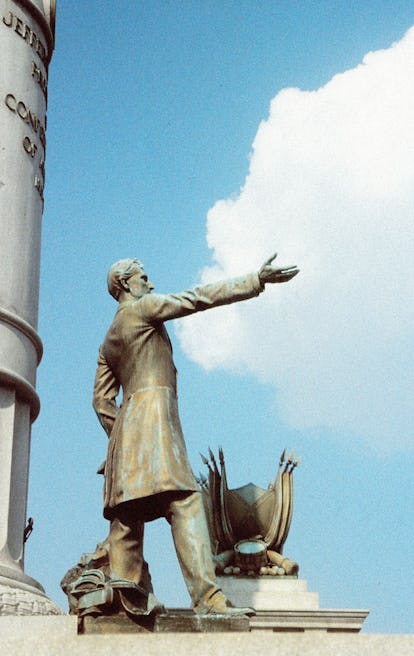 Einar E. Kvaran
Back in the day, W started off the morning with a quick round-up of links to that day's fashion- and culture-related news. Times have changed; in the week since a white police officer named Derek Chauvin killed an unarmed black man named George Floyd, protests have erupted across the country. Now, more than ever, it's important to stay up to date, which is why we're reviving "Chic in Review" as the slightly more radical "Read & Resist." Here are the stories, videos, and tweets we're hoping you don't miss this Friday:
In 2017, New Orleans mayor Mitch Landrieu faced death threats for attempting to take down the city's Confederate and Redemption-era monuments. But this week, protesters across the country—and as far as Belgium—have toppled similar statues that have stood for more than a century in a matter of minutes.
Louisville has yet to arrest the cops who killed Breonna Taylor, opting for what the city's mayor considers other "critical steps on police reform" like banning no-knock warrants.
President Donald Trump has a history of holding rallies in diverse, democratic cities surrounded by republican suburbs full of supporters when he's under attack. But none of the locations have been as conspicuous as that of his first post-shutdown rally, which will take place in Tulsa—the site of one of the worst incidents of racist violence in American history—on Juneteenth, the day honoring the end of American slavery.
Even Redditors have to admit that racism is an ugly part of the site's legacy.
Newsreel
Food for Thought
Related: Eve's Bayou, Drylongso, and Other Black Films to Watch Right Now