Read & Resist: W's Daily Briefing For June 8th
From the dangers of so-called "less lethal" weapons to surfers' and skaters' spins on protesting, here's what to read today.
---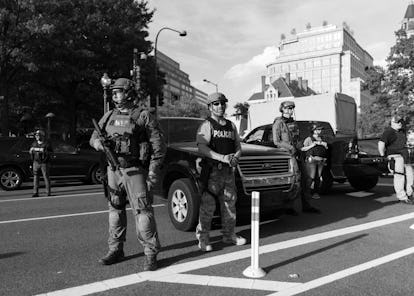 Nate Palmer
Back in the day, W started off the morning with a quick round-up of links to that day's fashion- and culture-related news. Times have changed; in the week since a white police officer named Derek Chauvin killed an unarmed black man named George Floyd, protests have erupted across the country, which seems to be devolving more into a police state by the day. Now, more than ever, it's important to stay up to date, which is why we're reviving "Chic in Review" as the slightly more radical "Read & Resist." Here are the stories, videos, and tweets we're hoping you don't miss this Monday:
Ten years after it was first published, The New Jim Crow: Mass Incarceration in the Age of Colorblindness has shot to the top of Amazon's best-seller list. Now, the book's author, Michelle Alexander, is back with a call to action: "We must reimagine justice. The days of pretending that tinkering with our criminal injustice system will 'fix it' are over. The system is not broken; it is functioning according to its design."
Law enforcement has long touted tear gas as a safe solution to diffusing protests, especially when they seem to be taking a violent turn. But tear gas is known to have long-term, harmful effects on health—to the point that it's banned in international warfare. The pandemic, of course, only makes matters worse—especially since the coronavirus has hit black Americans the hardest. "I worry that one of the compounding effects of structural racism is you'll see a second wave of black patients, including those who were out there defending their lives," one researcher told ProPublica and Mother Jones.
The "less lethal"—formerly known as "nonlethal"—components of law enforcement's arsenals can be just as harmful. See: the beanbag bullets that fractured a 20-year-old peaceful protester's skull, to the point that doctors anticipate he won't be able to tell his right from his left.
Another instance of why "less lethal" is a misnomer: Levi Ayala was all of 16—and just beginning to learn about social movements—when police in Texas shot and killed him with beanbag bullets.
While diving into the New York City mayor's shortcomings, Alexandra Schwartz aptly sums up the atmosphere of this spring: "To see the city transform, essentially overnight, from a ghost town to one exploding with life and righteous anger has been overwhelming, in every sense. It is frightening to think that after so much sacrifice to keep the virus at bay, we may be helping to usher it back in. But it is galvanizing, and beautiful, to feel united with our neighbors in a new way: to come together not for the sake of pleasure but for shared purpose."
The death of George Floyd, and the national uprising that has followed, has some black deaf Angelenos turning to the phrase "Black. Life. Cherish."
Protests are popping up in unexpected places—like Tyler, Texas, a town with a long history of lynching. Anne Helen Petersen explains why they're important, and has also chronicled many of them in a lengthy Twitter thread. (You can see it by clicking the below tweet.)
Newsreel
Food For Thought
Related: How Can You Make Sure You're Donating Effectively? A Guide to Bail Funds, Community Organizations and Direct Aid