Read and Resist: W's Daily Briefing for June 5th
From turmoil at the New York Times in the wake of a controversial op-ed to why you should think twice before sending that "checking in" text, here's what to read today.
---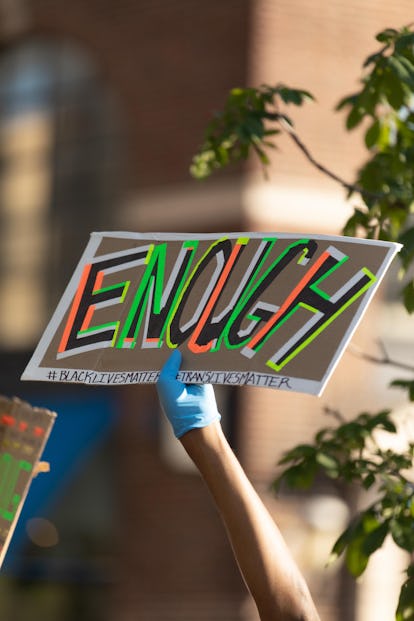 Back in the day, W started off the morning with a quick round-up of links to that day's fashion- and culture-related news. Times have changed; in the week since a white police officer named Derek Chauvin killed an unarmed black man named George Floyd, protests have erupted across the country, which seems to be devolving more into a police state by the day. Now, more than ever, it's important to stay up to date, which is why we're reviving "Chic in Review" as the slightly more radical "Read & Resist." Here are the stories, videos, and tweets we're hoping you don't miss this Friday:
Breonna Taylor, the black E.M.T. who was killed in her Louisville, Kentucky home on March 13 by police officers executing a "no-knock" search warrant on the wrong house, would have been 27 years old today. In this piece for Nylon, the writer Layla Halabian outlines some of the ways you can help her family fight for justice, from signing the petition to charge the officers to sending a birthday card in honor of Taylor to the office of the Kentucky attorney general.
Today is "Bandcamp Day," which means 100% of sales on the already artist-friendly music platform will go directly to musicians. In Garage, the writer Sophie Kemp spoke to people in the industry about what they're buying today and outlines why this is such an important way to support black creatives. "Spotify made a hollow promise to 'amplify Black creators,' without providing any clear information on how they plan to achieve this," Kemp writes. "Bandcamp on the other hand, outside of promising artists 100% of the sales they get on June 5, has stated that it will donate 100% of sales to civil right organizations on June 19—otherwise known as Juneteenth—and also announced an additional yearly donation of $30,000 to racial justice organizations." In addition, Bandcamp has shared their own list of artists and labels donating their proceeds to charitable causes.
On Wednesday, the Times published an op-ed by U.S. Senator Tom Cotton titled "Send in the Troops," which advocated for military intervention against protestors. It caused massive turmoil inside the newspaper, and many staffers took to Twitter to share the same message: "Running this puts all black people in danger, including @nytimes staff members." In the days since publication, the newspaper has put the column under review, saying that it fell short of their standards.
In an op-ed response today, the writer Michelle Goldberg eloquently sums up what was so irresponsible about giving Cotton the platform. "It's important to understand what the people around the president are thinking," Goldberg writes. "But if they're honest about what they're thinking, it's usually too disgusting to engage with. This creates a crisis for traditional understandings of how the so-called marketplace of ideas functions. It's a subsidiary of the crisis that has the country on fire."
The staff of the arts and culture website Rhizome shared a primer of digital resources for activists and those who want to support protesters from home, which will be updated continuously as protests continue. "Given the ongoing pandemic, the need for some to support protestors from home through online activities is particularly strong right now," they write. "The current crisis demands that we exercise critical thinking in our use of technology to organize and show solidarity, even when it comes to seemingly simple gestures like a social media blackout."
If you're documenting protests with photos or video, it's important to protect the identities of the people who appear in your images, particularly if they have not given permission to have their likeness shared publicly. (Photographers on assignment for W have scrubbed their images of metadata and blurred the faces of those who have not specifically consented to be identified.) In this piece for OneZero, the writer Lewis Gordon outlines some of the best practices for protest documentation, as well as specific apps you can use to ensure the privacy and security of protestors.
This week, social media has been filled with stories about white people reaching out to black friends (or black people in their social or professional networks with whom they have tenuous connections) with guilt-tinged, tone-deaf messages of support. The journalist Priska Neely shares her thoughts on this trend in an essay for New York Magazine's The Cut, breaking down what's so frustrating about it and offering a framework for anyone who's considering firing off an ill-advised message. "If you're trying to be an ally, then ask yourself some questions before you do this," Neely writes. "What assumptions am I making? What burden am I putting on this friend I care about? Would I normally ask this question? Did I, say, wish this person a happy birthday? What would I do if they really aren't okay?"
For The New Yorker, the writer Emily Witt vividly documented her evening with a group of protesters out after the curfew that was imposed on the city earlier this week. "To those leaning out of their windows to watch, occasionally banging on pots and pans, the protesters chanted, 'Wake up, wake up, this is your fight, too,'" she writes.
In this report for the L.A. Times, Suhauna Hussain outlines why curfews disproportionately affect black people and other marginalized communities, speaking with essential workers who were stopped while doing their jobs at night. "Black people and Latinos fill jobs that operate outside the standard 9-to-5 hours at higher rates than workers from other demographics," she writes. "Additional scrutiny from law enforcement during protests on top of pandemic restrictions serve as a 'double whammy' for people of color."
News and Discourse Highlights From Twitter: